Sen. Elizabeth Warren, D-Mass., announced her intention to run for re-election on Monday. The 73-year-old man has held the Senate seat since 2012.
Warren made the announcement early Monday morning on Twitter, releasing a slick campaign ad for Massachusetts voters singing her praises. Warren's ad has fueled speculation that she could mount a challenge to President Biden if she runs again in 2024.
"We've won big victories for working families in Massachusetts and across the country, but there's much more to do. So today I'm making it official: I'm running for re-election to continue the fight." Warren announced on Twitter.
"Across Massachusetts, Elizabeth is making sure we have a choice," one voter says in the video.
"Elizabeth doesn't hang around. She's always in our corner," says another.
KAMALA HARRIS WON'T SPEAK TO ELIZABETH WARREN AFTER 2024 'PRETTY INSULTING' SNUB: REPORT
Sen. Elizabeth Warren, D-Mass., announced her intention to run for re-election in 2024. (AP Photo/Alex Brandon)
Warren fueled some speculation in February that she might be planning a repeat presidential campaign in 2024 when she refused to endorse Biden and Vice President Kamala Harris.
Warren stopped short of endorsing Harris as Biden's 2024 running mate in a January interview on Boston Public Radio. The radio host asked the senator if Harris should be Biden's running mate if he were to run for re-election in 2024.
'THE VIEW' KAMALA HARRIS LAUNCHES ON ELIZABETH WARREN FEUD: 'I DON'T KNOW WHAT THE HELL IS WRONG WITH THE DEMOCRATS'
"I really want to leave what makes Biden comfortable in his team," Warren said. "I've known Kamala for a long time. I like Kamala. I knew her when she was the attorney general and I was still teaching, and we worked together on the housing crisis, so we go way back. But they need to…they need to be a team, and my sense is that they are; I don't mean to suggest that I think there's a problem. I think they are."
Warren later backed away from the comments, however, saying she fully supported the Biden-Harris ticket.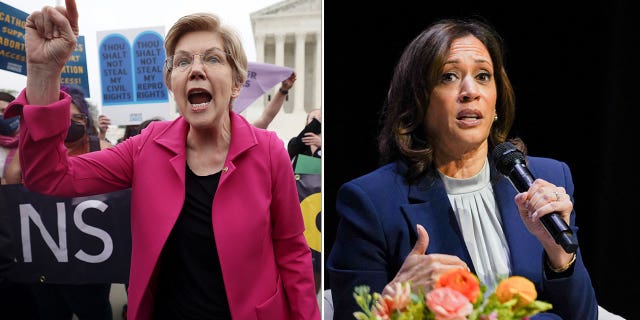 Vice President Kamala Harris, right, sparred briefly with Sen. Elizabeth Warren over a re-election bid. (Left: REUTERS/Evelyn Hockstein)/Right: (REUTERS/Megan Varner/File)
CLICK HERE TO GET THE FOX NEWS APP
"I fully support the re-election of the president and the vice president together and I would never say otherwise," Warren told GBH News in February. "They are a great group with a strong demand for working families."
This is a developing story. Check back soon for updates.
Anders Hagstrom is a Fox News Digital reporter covering national politics and breaking news. Send tips to Anders.Hagstrom@Fox.com, or on Twitter: @Hagstrom_Anders.