A churchgoer was pulled from the sanctuary hall by deputies and arrested on suspicion of murder Sunday morning in Polk County, Florida, as Sheriff Grady Judd spoke at the service.
The sheriff's office announced the unusual arrest of 56-year-old John Skeen, who was wanted out of Hillsborough County for shooting and killing his friend on a fishing trip Friday.
John Skeen, 56, was arrested and charged with second-degree murder for shooting and killing his friend on a fishing trip. (Polk County Sheriff's Office)
Polk County deputies located Skeen at the church after learning he had attended and were able to get him outside without disrupting the service.
FLORIDA DAD ARRESTED FOR SHOOTING MAN WHO WAS IN BED WITH TEEN: POLICE
Skeen asked deputies if he could go back inside "to dedicate his life to the Lord before he goes to jail." Deputies pledged to take a moment to pray together before taking Skeen to jail.
"You could say the devil is in the details," said the Polk County Sheriff's Office, noting that Sheriff Judd was the guest speaker at the service.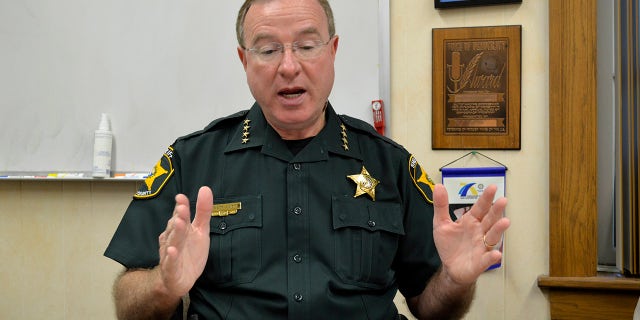 Polk County Sheriff Grady Judd was speaking at a church service on March 12 when a homicide suspect was arrested. (REUTERS/Bill Cotterell)
Skeen was home in Ruskin, Florida over the weekend on a fishing trip with two friends. A verbal altercation ensued after the man returned home from a bar and Skeen allegedly shot his friend, leaving him dead from a gunshot wound to the upper body.
"What was supposed to be a fun fishing trip full of great memories turned into a tragic weekend," Hillsborough County Sheriff Chad Chronister said in a statement.
CLICK HERE TO GET THE FOX NEWS APP
Skeen was charged with second-degree murder with a firearm. An attorney listed in court filings did not immediately return a request for comment Tuesday afternoon.
Paul Best is a breaking news reporter for Fox News Digital and Fox Business. Story tips and ideas can be sent to Paul.Best@fox.com and on Twitter: @KincaidBest.