Idaho students are suing the state to overturn a new law that removed student IDs as an acceptable form of voter identification at the polls.
Idaho's March for Our Lives and a 17-year-old student, Rosaura Albizo Barron, filed a lawsuit Friday to overturn the law, HB 124, on constitutional grounds. Their complaint states that HB 124 "violates the Twenty-sixth Amendment (of the US Constitution) by being motivated by a discriminatory purpose."
"Many students like myself rely on our student IDs for transportation, accessibility and identification," Barron said in a press release. "This bill not only threatens our constitutional right to vote, it threatens the only legitimacy we have. Speaking out on behalf of myself and students like me is an act of weakness, but I believe it is very important to stand up for my community and protect our voice and our basic human rights".
Republican Gov. Brad Little signed HB 124 into law on Wednesday. The legislation amends Idaho's voter identification law to remove a "student identification card" from the list of personal identification that voters must show at the polls before casting a ballot. Other acceptable forms of identification include an Idaho driver's license, passport or state-issued photo ID, a tribal identification card, or a concealed weapons license.
ARIZONA DEMOCRATIC AG SUGGESTS GOP-CONTROLLED COUNTY EMBRACED BY ELECTION CONSPIRACY THEORIES
Idaho Governor Brad Little signed HB 124 into law Wednesday, eliminating student IDs as an accepted form of voter identification. (Lev Radin/Pacific Press/LightRocket via Getty Images)
Lawyers representing the students argue that HB 124 discriminates against young people. "It was passed in response to an unprecedented wave of political activism by young Idahoans, along with other measures such as restrictions on youth legislative testimony that represent a clear backlash against that activism," the complaint states. "It's surgically targeting young Idahoans and making it harder for them to vote because they lack student identification and accepted forms of voter identification than older voters."
They also argue that the law is a solution in search of a problem, writing that "accepting student identification has not produced a single documented problem in the thirteen years since Idaho began requiring voter identification."
According to the lawsuit, "The number of 18- and 19-year-olds registered to vote in Idaho increased by 81% between 2018 and 2022, the largest increase nationally." The participation of young voters has also increased, with 48% of voters between the ages of 18 and 29 voting in 2020, a 10-point increase from 2016, when only 38% of voters in this age group participated. The complaint also points to increased youth political activism, including the gun control campaign of the March for Our Lives, as evidence that HB 124 seeks to discriminate against or politically punish young activists.
"In recent years, Idaho has experienced an unprecedented wave of youth political activism," said Elizabeth Frost, an attorney representing the plaintiffs. "Young leaders across the Gem State have made their voices heard on important issues like gun violence, climate change and reproductive health. Instead of engaging with this growing youth activism, Idaho's political power has tried to suppress it.
IDAHO MURDER: BRYAN KOHBERGER'S INVESTIGATIVE PHOTOS REVEALED BY COURT SEAL DOCUMENTS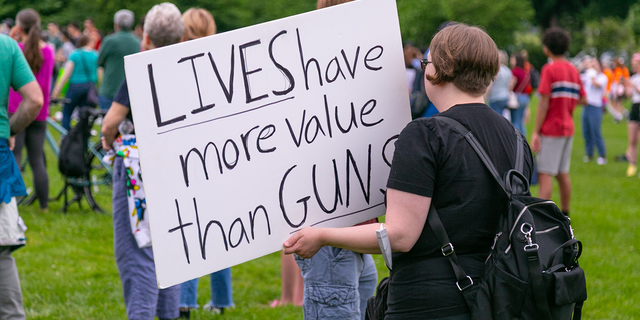 The Idaho chapter of March for Our Lives, an anti-gun activist group, is suing the state to overturn HB 124, alleging unconstitutional discrimination against young voters. (Fox News Digital)
"For more than a decade, high school and college students have been able to use their student ID card to verify their identity at the polls, a practice that has not resulted in a single documentation problem," added Frost.
Republican lawmakers who supported HB 124 viewed the legislation as an election integrity measure.
"The problem they have is there's no uniformity," co-sponsor state Sen. Scott Herndon, R-Sagle, said during the debate. Herndon said only 104 people used student IDs to vote in the November 2022 election and argued that the standard for obtaining a student ID is lower than other forms of identification. State records show more than 599,000 Idahoans voted in that election, according to the Idaho Capital Sun.
"We, again, want to remove the ID of the students because through this method of identification we cannot have so much certainty that the voter who is there to vote at the polling station is who they say they are," emphasized Herndon.
'BIG IDAHO' MOVE TO ABSORB RURAL OREGON COUNTIES 'BAD TOWNS,' TOP DEM WARN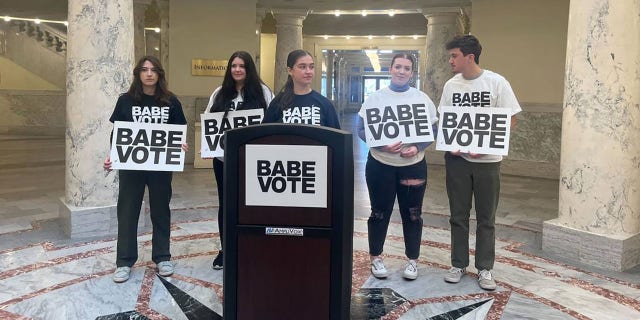 Supporters of BABE Vote, a group of student activists, gather at the Idaho Capitol to announce a lawsuit challenging a new law banning students from using student IDs, Friday, March 17, 2023, in Boise, Idaho. (Mia Maldonado/Idaho Statesman/Tribune News Service via Getty Images) (Mia Maldonado/Idaho Statesman/Tribune News Service via Getty Images)
In January, Republican state Rep. Tina Lambert expressed concern that students in neighboring Washington state or Oregon could vote by mail in their states and then "come here with a student ID and vote in person and then fill out the ballot in another state." thus voting twice.'
Voting in multiple states is illegal in Idaho and violates federal election laws.
CLICK HERE TO DOWNLOAD THE FOX NEWS APP
March for Our Lives activists accused GOP lawmakers of trying to suppress their votes.
"HB 124 prevents many young people from voting and being a part of the fight to end gun violence in America. Generation Z has grown up in a world where senseless gun violence is normal, so we want to make sure we are able to vote and make our voices heard on these important issues," he said. said Lucy Glynn, director of MFOL Idaho.
Also on Friday, the League of Women Voters, Idaho and BABE Vote each filed a lawsuit to stop Idaho from enforcing HB 124.
"Republican-controlled legislatures across the country have used the false specter of voter fraud to make it harder for young people to vote," their complaint states.
Chris Pandolfo is a writer for Fox News Digital. Send tips to chris.pandolfo@fox.com and follow @ChrisCPandolfo on Twitter.