Hi, and welcome to another edition of Prep Rally. My name is Eric Sondheimer. It's a big weekend for high school track and field. The best meet of the season is set for Saturday at Arcadia High. The Arcadia Invitational has produced many outstanding performances through the years.
Get ready for speed
Rodrick Pleasant of Gardena Serra has used his blazing track speed to his benefit as a top cornerback.
(Nick Koza)
Saturday's Arcadia Invitational has the makings of another memorable meet for standout track and field performances.
The girls 4 x 100 relay will get things started fast, with defending state champion Gardena Serra having to face rising Carson, which ran 45.74 at the Texas Relays last week. State 200 champion Brazil Neal of Serra tuned up in the 100 with a time of 11.83 at Trabuco Hills.
Rodrick Pleasant of Gardena Serra has never won the 100 at Arcadia and when asked a couple weeks ago how badly he wanted to win, he said, "Bad." Here's a report from Pleasant's first 100 last week in which he ran 10.40. Pleasant is going to face competition from Jordan Washington of Long Beach Jordan in the 100 and from Dijon Stanley of Granada Hills in the 200.
Dylan Curtis of Redondo Union achieved a lifetime best in the pole vault at Trabuco Hills at 16 feet, 1 inch, making him a contender on Saturday.
Meagan Humphries of Castaic is becoming one of the most versatile track and field performers. She was known primarily as a high jumper but is branching out in the long jump, 400 and 200. Jada Gatlin of Mission Viejo went 50-8 in the girls' triple at the Trabuco Hills Invitational.
Newsletter
Get our high school sports newsletter
Prep Rally is devoted to the SoCal high school sports experience, bringing you scores, stories and a behind-the-scenes look at what makes prep sports so popular.
Enter email address
Sign Me Up
You may occasionally receive promotional content from the Los Angeles Times.
Baseball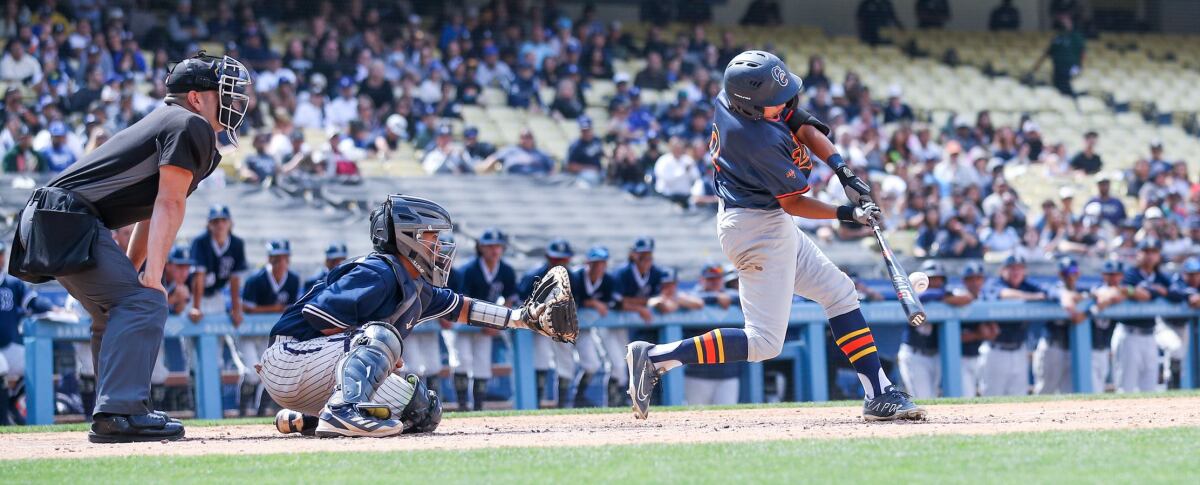 Chatsworth's Ryan Herrera makes contact as the Chancellors win their record 10th City Section Open Division title with 2-0 win at Dodger Stadium.
(Craig Weston)
The City Section has finalized details to hold the Open Division and Division I championship baseball games on Saturday, May 27 at Dodger Stadium. It will also extend the regular season by one week to help deal with recent rainouts and the playoffs will take place over a two-week period instead of three weeks.
Logan Reddemann of Quartz Hill is having quite a season. He has given up one run in 40 innings with 56 strikeouts. He struck out 12 and threw a two-hit shutout in his latest outing, a 3-0 win over Valencia. And he has a 4.0 grade-point average.
Huntington Beach won its 10th consecutive game and it was a big one, an 8-1, nine-inning victory over JSerra in the championship game of the National High School Invitational in Cary, N.C. Sophomore Tyler Bellerose was named tournament MVP for Huntington Beach. He started the tournament with three scoreless innings and ended it giving up one run in six innings against JSerra.
In his first pitching start of the season, the Mission League pitcher of the year, Isaiah Magdaleno, takes down the No. 1 team in California. Crespi 3, Notre Dame 1. pic.twitter.com/nWEEhB25LP
— eric sondheimer (@latsondheimer) April 1, 2023
Crespi knocked off No. 1 Sherman Oaks Notre Dame 3-1 behind the reigning Mission League pitcher of the year, Isaiah Magdaleno. He threw 104 pitches in what was his first start of the year. The Celts needed him to play catcher until transfer student Landon Hodge became eligible and also wanted to rest his arm. Now that he's back with a vengeance, the Celts could be a real Division 2 title contender come playoff time.
Corona continued to show its outstanding pitching depth, winning two 10-inning games against rival Norco and winning all three Big VIII League games against the Cougars.
The National Classic begins Monday in Orange County. Here's the link to the bracket.
Here's this week's top 25 baseball rankings by The Times.
Softball
Brianne Weiss of Orange Lutheran pulled off the pitching performance of the season, striking out 20 batters in a 3-0 win over Chula Vista Mater Dei.
Ava Deb of Sierra Canyon delivered a two-out, two-run walk-off home run in a 5-4 win over Sherman Oaks Notre Dame. The Knights had taken a 4-3 lead in the top of the seventh on Ella Parker's second home run of the game.
Mia Sanchez of Esperanza threw a no-hitter with eight strikeouts in Esperanza's 1-0 win over Rancho Bernardo.
Freshman Maddison Kellogg of Burbank struck out 22 batters in 12 2/3 innings in a 1-0 loss to Crescenta Valley.
Los Alamitos softball celebrates after winning the Michelle Carew Classic on April 1, 2023.
(Luca Evans / Los Angeles Times)
Los Alamitos emerged as the champion of the Carew Classic. Here's a report from the championship game.
Final: Los Alamitos 4, Saint Francis 2. Los Alamitos wins the 2023 Michelle Carew Classic and staked a claim as the best team in California after a great tournament run. pic.twitter.com/R7C0KLYjkq
— Luca Evans (@bylucaevans) April 2, 2023
Gahr High softball players Amarie Allen checks out the pendant on her necklace that honors her late father.
(Luca Evans / Los Angeles Times)
High school softball players are finding solace in being able to wear jewelry during games this season to honor loved ones. Here's a report.
Golf
Valencia found some sunshine and turned in a strong golf performance at Sand Canyon CC. Taylor Cotti led the way with a 70.
Congratulations to our varsity golfers for shooting the lowest team score in school history today at Sand Canyon CC!! Our top five combined for a score of 364, beating Chaminade by 39 strokes. #GoVikings🤘 pic.twitter.com/4PenBvFoMK
— Valencia Athletics (@VHSVikingSports) March 31, 2023
Volleyball
Victor Loiola of Mira Costa rises up trying to block Loyola's Spencer Graves.
(Craig Weston)
More than 1,500 packed Loyola Marymount to watch the renewal of the boys' volleyball rivalry between Loyola and Mira Costa on Friday night.
Loyola, now the No. 1-ranked team in Southern Section Division 1, came away with a convincing victory. Here's a report from the match.
Here's a column on Mira Costa's 6-8 setter Tread Rosenthal on how his unique skills and size could be a game changer in volleyball.
Boys Volleyball: 2023 @CIFLACS Mid-Season Rankings.
1. Chatsworth
2. Eagle Rock
3. Palisades
4. University
5. El Camino Real
6. Granada Hills
7. Taft
8. Carson
9. Narbonne
10. Venice
Others To Watch: Birmingham, Bravo, Kennedy, Grant, Marshall, Rancho Dominguez, Verdugo Hills.
— Rene Lopez (@renelopez19) April 3, 2023
Burbank Burroughs had its streak of 47 consecutive home victories in league matches ended when Crescenta Valley defeated the Bears in a Pacific League match.
Caddying changes life
Isaec Valencia of L.A. Salesian was awarded a $125,000 Chick Evans Scholarship for caddying.
(Western Golf Assn.)
Two years into his high school football days as an offensive lineman at Los Angeles Salesian High, Isaec Valencia changed plans. He gave up football and focused on caddie school.
He put good use to the strength gained from his days in the weight room. Carrying a golf bag was much easier than learning the rules and etiquette of golf.
"At first, it seemed like a lot," he said. "I had no idea of any rules of golf."
After three years at the Western Golf Assn.'s Caddie Academy, the 17-year-old Valencia received life-changing news. He was awarded a $125,000 Chick Evans Scholarship, which will enable him to attend the University of Washington, study biological sciences and pursue his dream of becoming a family practitioner.
Here's his story.
Lacrosse
The top teams in Southern Section boys' lacrosse have stayed pretty consistent, with Mater Dei and Loyola ranked No. 1 and No. 2 in Division 1/2.
For girls, Foothill and Marlborough are ranked No. 1 and No. 2.
Crenshaw High's De'Chelle Bracket takes off down the sideline during a League of Champions game.
(Craig Weston)
Rules have been finalized for the inaugural season of CIF seven on seven girls' flag football this fall.
Here's some questions and answers to what will be unfolding.
It's offseason time in football but players are busier than ever working on getting stronger,, faster and better
Ryon Sayeri. Chaminade. Kicker. Made 13 of 16 field goals in 2022. Made all 50 conversion kicks. Averaged 49 yards on punts. Made 61-yard field goal. Can't wait to see what he has in store for senior year. pic.twitter.com/iCenDKYVfT
— eric sondheimer (@latsondheimer) March 30, 2023
At Chaminade, there's not a day that goes by where kicker Ryon Sayeri can't be seen on the field practicing his kicking or punting. Maybe that's a reason he made 13 of 16 field goals last season, averaged 49 yards a punt and kicked a 61-yard field goal. His goal this fall is to challenge the state record for longest field goal, which is 64 yards by Erik Affholter of Oak Park in 1982.
Teams have been announcing their finalized schedules for 2023. One of the most intriguing openers will be Sierra Canyon playing JSerra and first-year coach Victor Santa Cruz. Sierra Canyon leads the high school football transfers tracker with three outstanding offensive players having checked in: Quarterback Wyatt Becker (Sherman Oaks Notre Dame), receiver Kwazi Gilmer (Chaminade) and receiver Xavier Jordan (Cathedral).
Allegiance held its linemen competition last month and had players vote on their MVPs, with offensive linemen voting for defensive linemen and vice versa. The winners were DT Jireh Moe (Orange Lutheran), DE Luke Webb (JSerra), OT Mark Schroller (Mission Viejo) and OG Dustin Foisia (Orange Lutheran).
Former Hamilton, Palisades and Narbonne football coach Jack Epstein celebrated his 90th birthday with dozens of his former players in Redondo Beach. Hall of Fame quarterback Warren Moon was among the players he coached.
Notes . . .
Junior pitcher Jackson Banuelos of West Ranch has committed to Cal State Northridge. . . .
Jarrett Tossey is the new boys and girls water polo coach at Edison. . . .
Birmingham has agreed to play a nonleague football game in Texas this fall on Sept. 22 at Steele High outside of San Antonio. . . .
Standout sophomore basketball player Brandon Benjamin has left Anaheim Canyon and transferred to Mater Dei. . . .
Mikah Ballew from Valencia has committed to Portland for basketball. . . .
Calabasas baseball coach Thomas Cassidy will also take on the job as athletic director for the Coyotes. . . .
Sophomore defensive back Devin Bragg, who transferred to Sierra Canyon, has returned to Los Alamitos. . . .
Johnny Argo is the new football coach at Arroyo. . . .
Josh Beaty has been hired as the boys' basketball coach at Fountain Valley. He has coached at Buena Park and Crean Lutheran. . . .
After winning a state title, Valencia basketball coach Bill Bedgood said he would retire to watch his son, Bryce, for his senior year. Now Bryce has convinced his father to stay one more year. "We learned how to appreciate each other," Bedgood said. . . .
David Perez has resigned as football coach at Canoga Park. He was head coach since 2020 but an assistant coach since 2002.
From the archives: Jason Segel
Actor Jason Segel
(Jay L. Clendenin / Los Angeles Times)
Before Jason Segel was a comedic genius, actor, producer, song writer, he was a high school basketball player at Harvard-Westlake in the 1990s. He happened to show up at the time of the Collins twins, Jason and Jarron, which meant he was a backup center. But every time he got in, the crowd was excited because Segel loved to entertain.
Segel took away some of the publicity for the Collins twins with a two-handed dunk during a trip to the East Coast. He went on to play Paul Westhead in HBO's "Winning Time." Now he's starring in the Apple TV+ series "Shrinking."
Here's a 1996 story about Segel's contributions.
Here's a 2008 blog about Segel and Dr. Dunk.
Recommendations
From the Los Angeles Times, an in-depth look at the senior season of Bronny James at Sierra Canyon.
From the Los Angeles Times, a story on former Compton Dominguez and Compton College baseball player conquering challenges to become an MLB umpire.
From MLB.com, a story on Huntington Beach baseball player Ralphy Velazquez.
From the San Diego Union-Tribune, a story on a freshman track athlete making waves in the sprints.
Tweets you might have missed
El Camino Real's all-weather football field, out of action since the fall because of defective materials, may or may not be fixed by summer. It's a bureaucracy at its best. LAUSD must fix. Paper work must be completed. Approvals must be given. Crew must be hired. Good luck.
— eric sondheimer (@latsondheimer) March 27, 2023
Tell me if there's a more intriguing prospect than 6-7 lefty Chris Downs of Hart. Growth spurt left him sidelined. He's healthy now. pic.twitter.com/6Kw1pXPpfK
— eric sondheimer (@latsondheimer) March 28, 2023
Oaks Christian's Anahi Arreola is having a ridiculous season. Leading all softball players in California, per MaxPreps, in homers — 11 in 41 at-bats. Started off the year with a home run in seven straight games. Senior.
— Luca Evans (@bylucaevans) March 29, 2023
Los Alamitos' win wraps up Lance Eddy's final year as tournament director of the Michelle Carew Classic. 36 years running a legendary tournament. Former Canyon coach and a beloved figure in SoCal softball. pic.twitter.com/rCNPm64s2B
— Luca Evans (@bylucaevans) April 2, 2023
Until next time…
Have a question, comment or something you'd like to see in a future Prep Rally newsletter? Email me at eric.sondheimer@latimes.com, and follow me on Twitter at @latsondheimer.
Did you get this newsletter forwarded to you? To sign up and get it in your inbox, click here.