Hi, and welcome to another edition of Prep Rally. My name is Eric Sondheimer. It's awards time in high school basketball. The Times' boys and girls players of the year are Jared McCain from Corona Centennial and Juju Watkins from Sierra Canyon. Let's take a look at more awards.
Basketball honorees
Stan Delus of Etiwanda is the girls' basketball coach of the year.
(Jeremiah Soifer)
There was some tough choices for The Times' basketball awards, but none was easier than the girls' coach of the year. Stan Delus of Etiwanda guided his team to the state Open Division championship and did so with consecutive victories over nationally ranked La Jolla Country Day, Sierra Canyon and Archbishop Mitty. That's an improbable path, but he and his players pulled it off. Here's the report.
Juju Watkins of Sierra Canyon gets girls' player of the year for the third time after helping the Trailblazers win the Southern Section Open Division championship as a generational talent. Here's the profile.
Here's the 10-player girls' all-star team.
Jared McCain of Corona Centennial is the boys' player of the year for his all-around contributions in leading the Huskies to a third straight Southern Section Open Division title. Here's the profile.
The boys coach of the year is Christian Dunbar of Eagle Rock. His team won the City Section Division II championship while overcoming the loss of its best player to a knee injury in December. Here's the profile.
Here's the 10-player boys' all-star team.
Here's the final top 25 boys rankings from The Times.
Newsletter
Get our high school sports newsletter
Prep Rally is devoted to the SoCal high school sports experience, bringing you scores, stories and a behind-the-scenes look at what makes prep sports so popular.
Enter email address
Sign Me Up
You may occasionally receive promotional content from the Los Angeles Times.
Baseball
Dean West of Sherman Oaks Notre Dame slides home to score Tuesday against Harvard-Westlake.
(Craig Weston)
The Southern Section baseball coaches made Sherman Oaks Notre Dame the No. 1 team in their Division 1 poll at the start of last week, and perhaps they were right. The Knights swept a three-game series from Harvard-Westlake, inflicting rare defeats on Harvard-Westake pitches Thomas Bridges and Bryce Rainer.
Justin Lee, a UCLA commit, touched 95 mph for Notre Dame in the first game, a 2-1 victory. He's always had talent but throwing strikes has been the key and he did that against the Wolverines. Here's the report.
Mater Dei is off to a 6-0 start in Trinity League play, a huge beginning for a program that hasn't been to the Southern Section playoffs since 2017. The Monarchs' league struggles put them in Division 2 this season, and if they were to finish in the top three to get an automatic berth, it would open the way for perhaps a fourth team to get a playoff spot. Sophomore pitcher Landon Gordon, a USC commit, has been thriving.
JSerra ended a five-game losing streak with a 2-1 win over Santa Margarita behind Matt Champion.
Palisades could be the lone team outside of the San Fernando Valley to challenge for a City title. The Dolphins have strong pitching and are 7-1. Mason Edwards struck out eight in a 6-1 win over Hart.
Cypress is getting hot behind pitcher Luke Matlock.
Garden Grove Pacifica and San Clemente are on winning streaks. Bonita has improved to 8-1 behind pitcher Justin Santiago, who threw a no-hitter last week.
El Camino Real picked up a 5-1 West Valley League win over Birmingham behind left-hander Oscar Lopez. Here's the report.
Granada Hills is in first place in the West Valley League behind strong pitching.
Here's this week's top 25 rankings by The Times.
Golf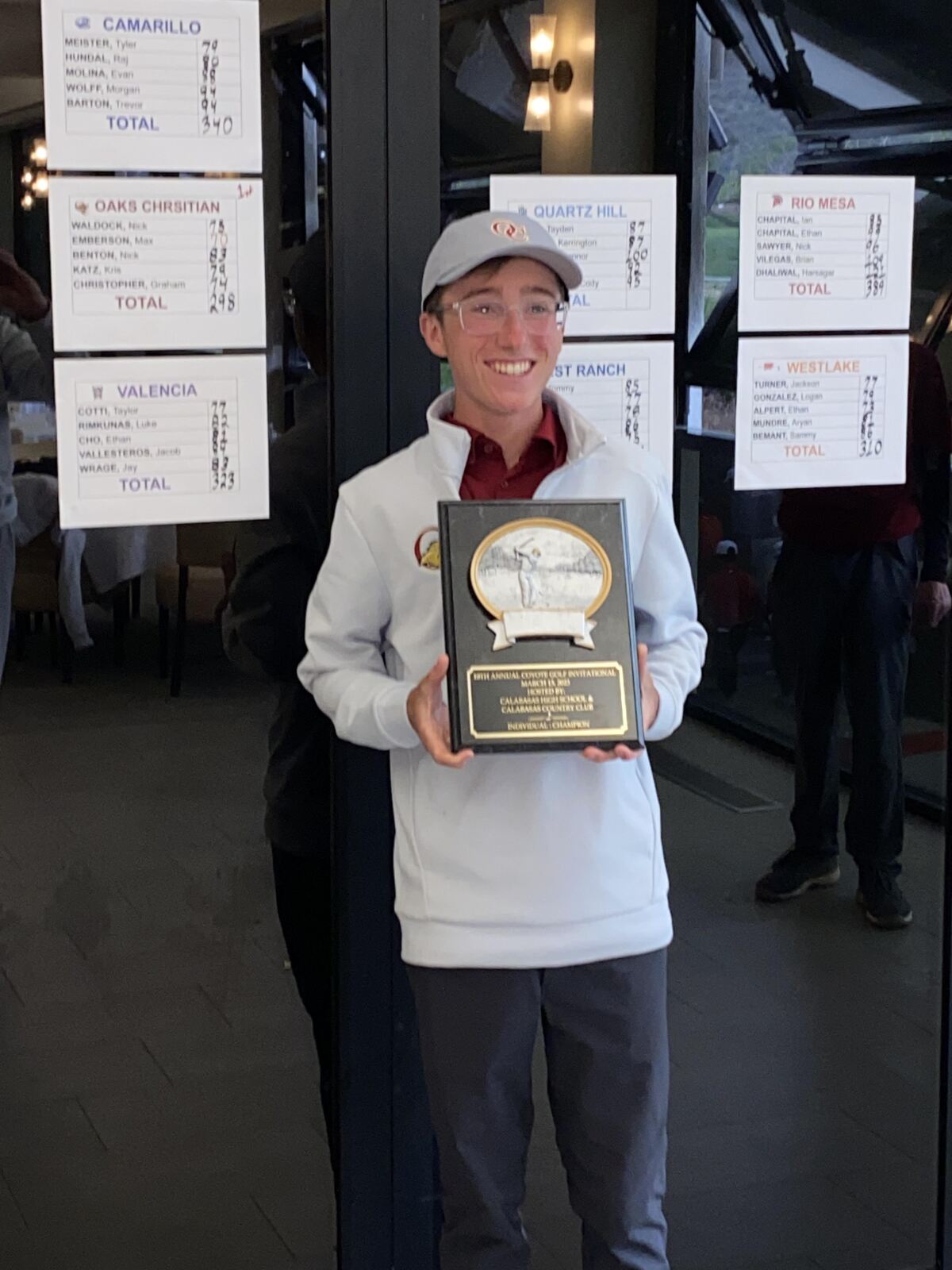 Freshman Max Emberson of Oaks Christian won the Coyote Invitational by shooting 70.
(Oaks Christian)
Oaks Christian's Max Emberson, only a freshman, shot 70 to win the Coyote Invitational.
Accomplishment
Harvard-Westlake guard Trent Perry (0) celebrates against Corona Centennial in the Southern California Open Division regional final.
(Jason Armond / Los Angeles Times)
There were 14,818 high school sports transfers recorded statewide in 2021-22, according to CIF statistics. Transfers have been embraced by so many schools, coaches and parents as the way to win that rebuilding years never happen for a select group of successful schools.
Seniors leave, replaced by more seniors from other schools. Forget about the juniors and sophomores waiting their turn. It's competition, baby. Best teenager starts. School choice, baby. Mom and dad can pick and choose while moving as many times as they want, and coaches don't care.
It's all legal and happening on a bigger scale in college sports, where the transfer portal might one day get its own TV show to announce who enters the portal.
There is one benefit for so many schools and parents loving the transfer game. Whenever a school or coach proves you can still win with homegrown players, it makes for a great story.
That happened last weekend at the state basketball championships in Sacramento, where Harvard-Westlake and coach David Rebibo won the Open Division championship without a transfer during the 2022-23 school year.
Here's the report.
Genius in bracketology
24-year-old Jake Liker, a Westwood native and NYU law student, has tallied the highest single-year Bracket Matrix score for predicting March Madness seedings in history.
(Luca Evans / Los Angeles Times)
When leaves ripen red, birds across the country begin heading south. When branches turn bare, bears turn to hibernation for the winter.
Come spring, the birds migrate again, and Westwood native and Harvard-Westlake grad Jake Liker feels the pull of seasonal rhythms towards the fruitless quest for perfection. He opens up a spreadsheet, taking up arms with a tiny legion of a few hundred college basketball obsessives trying to predict the future through months of research.
This is "bracketology," the niche step before March Madness: try to guess every team's seeding in the NCAA hoops tournament. Liker was one of 229 brackets entered in 2023 on a site dubbed "The Bracket Project," a charming hub for both, say, the industry professional and the humble actuary to compete on their projections.
It is an exercise in futility, six-year vet David Letcka said. Study all the data you want, but at the end of the day, this practice is subject to human opinion. To sheer luck. And usually, Liker said, Selection Sunday is like a disappointing watch of "Deal or No Deal" — bracketologists left feeling they'd opened the $500,000 case and shouting four-letter words at the television.
Liker came close to perfection on his bracket prediction. Here's his story.
Appreciation of Ed Goorjian
Last December, Ed Goorjian passed at his home in Oceanside. He was 96 and a Hall of Fame basketball coach at Crescenta Valley High School and former head coach at Loyola Marymount.
The LMU Basketball family is saddened to learn about the passing of Ed Goorjian. Our thoughts and prayers are with him and his family.
Once a Lion, always a Lion. pic.twitter.com/XqECBWzX5t
— LMU Men's Basketball (@lmulionsMBB) December 10, 2022
He began the Crescenta Valley program in 1960 and coached to 1978, producing numerous top players, from Brad Holland to his son, Greg, who averaged 43.4 points his senior year. He compiled a record of 328-103. He was inducted into the Southern Section Hall of Fame in 2013. Two other sons went into coaching, Brian and Kevin.
Ed was the salt of the earth. He helped so many young kids and coaches throughout his journey. His HOF footprint on the world is indelible. RIP my friend!
— Bob Hawking (@hawksnest_hoops) March 16, 2023
He was always influential as a coach and speaker on basketball.
Track
It was a battle of football players in the 100 meters at the Don Greene Invitational, and what a performance was turned in by Oaks Christian receiver Chase Farrell, who won in 10.51 seconds. Dijon Stanley of Granada Hills was second in 10.59 and Jordan Washington of Long Beach Jordan was third in 10.62.
Quarterback Seth Shigg of Chaminade ran the 100 in 10.84 in his first track race of the season.
How's this for a 1-2 finish for Dana Hills HS in the featured Eric Hulst boys' 3200m run at the ASICS Laguna Beach Trophy Invite?!! Evan Noonan and Garrett Woodruff light 💡 it up for the Dolphins! 🔥🔥 pic.twitter.com/6XbIssZ6DE
— Rich Gonzalez (@PrepCalTrack) March 18, 2023
Volleyball
Chatsworth picked up an important West Valley League volleyball victory over Taft. One of the best players in the City Section, Blake Pohevitz, recorded 26 kills and four aces. Freshman Noa Beauregard had eight kills.
Newport Harbor is ranked No. 1 and Loyola No. 2 in this past week's Southern Section Division 1/2 rankings. Beckman has been rising and is No. 3.
Beach Volleyball: 🏐 🌊 ☀️
Great to see eight of our schools competing today during the regular season extravaganza on Saturdays in Santa Monica. Coming up soon-
April 15- Pairs Championship! 🏆
April 20- Team Championship! 🏆#CitySectionPride #CIFLACS pic.twitter.com/5Wkb0xIgPd
— CIF LA City Section (@CIFLACS) March 18, 2023
The City Section will hold its girls' beach volleyball championships next month, with the pairs on April 15 and the team on April 20.
Boys Volleyball: Playoff Results From 46th Annual Dos Pueblos Invitational Tournament From The Thunderdome At UCSB. 5 @CIFLACS Teams Entered. Eagle Rock, Palisades & Taft Qualified For Gold Division. El Camino Real & Granada Hills Fell To Silver. ECR Won Silver Division Title. pic.twitter.com/5Pd0CmJl2q
— Rene Lopez (@renelopez19) March 19, 2023
The USA 19U national team won another gold medal in the Pan American Games in Guatemala, led by local standouts Sean Kelly (Loyola) and and Tread Rosenthal (Mira Costa). Rosenthal, a USC commit, was named tournament MVP. Kelly had 19 kills in the final match against Mexico.
Making a little history! 🎆
The 2023 U.S. Boys U19 Team 🇺🇲 became the first U.S. male age group team to medal in 2 straight international events on Saturday when it swept Mexico 🇲🇽 to win its 2nd straight Pan American Cup 🏆!
Story and stats to come pic.twitter.com/iUARQP41Hp
— USA Volleyball (@usavolleyball) March 19, 2023
Softball
The top teams in Southern California are gearing up for the Carew Classic that begins on March 29 in Orange County.
Mountain View St. Francis is seeded No. 1 in the 31-team tournament with Los Alamitos No. 2, Murrieta Mesa No. 3 and Norco No. 4.
Oklahoma commit Ella Parker of Sherman Oaks Notre Dame has led her team to an 8-1 record. She has 13 hits in 21 at-bats for a .619 average with six home runs. Freshman Charley Tapia is hitting even better with 15 hits and a .652 average.
Here's this week's softball notebook featuring a look at Oaks Christian honoring former coach Peter Ackermann.
Lacrosse
The coastal divide in the United States is best defined not by arguments over bagels but by attitudes toward the simple sport played with ball and stick.
Loyola boys' lacrosse head coach Jimmy Borrell is from Northern Virginia, an East Coast lifer through and through. His teammates at the University of Maryland had dads who played there, and grandads, and great-great grandads. The sport is in the region's very blood. So coaching in Southern California was culture shock.
Once a player told him he missed practice because "the waves were too good." Another kid once skipped because they had a "glass-blowing club."
"I'm like, 'you have a glass-blowing club – you guys making bongs over there?' " Borrell recalled, joking. "What's going on in California?"
Lacrosse culture in the greater Los Angeles area, though, is starting to shift as more East Coast products have settled out west. 6,670 high schoolers played Southern Section lacrosse in 2021-22, according to CIF participation census data.
Here's your look at the basics of lacrosse in Southern California.
Notes . . .
Catcher Max Senesac of Cypress has committed to Loyola Marymount. . . .
Outfielder Ryan Limerick of Sherman Oaks Notre Dame has committed to Cal. . . .
Senior guard Jared McCain of Corona Centennial has been selected the Gatorade state player of the year in boys' basketball for the second consecutive season. . . .
Steve Eshleman, who was the girls' basketball coach at Van Nuys and served an assistant to Todd Wolfson at St. Francis, is the new boys' head coach at Burbank. . . .
Dennis Leon is the new girls' soccer coach at Burbank. . . .
Leilani Martinez of Redondo Union has committed to Cal State Fullerton for women's volleyball. . . .
Marcus Adams of Narbonne and Keyon Kensie of Taft were selected co-players of the year in City Section basketball. Here's the link to All-City teams.
Oscar Vargas from Birmingham and Sharon Alcocer from El Camino Real are the boys and girls soccer players of the year in the City Section. https://t.co/rjD8mFxVQk
— eric sondheimer (@latsondheimer) March 17, 2023
From the archives: Clark Phillips III
Utah cornerback Clark Phillips strips the ball from Ohio St. receiver Jason Smith-Njigba in the 2022 Rose Bowl game.
(Wally Skalij/Los Angeles Times)
Since his high school days at La Habra, Clark Phillips III has been making interceptions and disrupting lots of offenses.
Now it's time to see where he might go in the NFL draft. People always question is 5 feet 9 size, and each time he uses his speed, instincts and jumping ability to make a play-making difference. He was clocked running a 4.51 40 at the NFL combine.
At Utah, he started all 31 games in his career and had nine interceptions, returning four for touchdowns. He once intercepted three passes in a high school game and returned each one for a touchdown.
Here's a 2018 story about Clark's versatility at La Habra.
Recommendations
From the Union-Tribune, a story on twins in girls' soccer from San Diego having to leave for separate colleges.
From AOL.com, a story on two athletes suiting the Ivy League for not offering scholarships.
From the Los Angeles Times, a story on Students LA preparing to run in the L.A. Marathon.
From the Los Angeles Times, a story on why former Bishop Montgomery standout David Singleton is so important to UCLA.
From Yahoo.com, a story on a 14-year-old with size 23 shoes.
Tweets you might have missed
Fun moment out at Sierra Canyon this afternoon, where the Las Vegas Aces' Candace Parker surprised Juju Watkins with another award in her stacked trophy case: Gatorade National Player of the Year. pic.twitter.com/wMkRF4H7nf
— Luca Evans (@bylucaevans) March 13, 2023
My most improved players over the course of the basketball season: 1. Nikolas Khamenia, Harvard-Westlake; 2. Zachary White, SO Notre Dame; 3. Jack Turner, St. John Bosco; 4. Bishop Brooks, Taft.
— eric sondheimer (@latsondheimer) March 14, 2023
This comes under the category happy endings. Monroe cross-country runner JoseLuis Rincon has been accepted to UCLA as a pre-med major. See his story from last November. https://t.co/FBiSJJdt9f
— eric sondheimer (@latsondheimer) March 18, 2023
Perhaps the best award given tonight was Hoops Legend Vicky Oganyan receiving her Academic All State 2022 Award. She had a 4.0 GPA all while coaching a varsity team, playing on a college team, attending both practices daily and oh by the way….teaching 4 classes of Biology! pic.twitter.com/027T3dAuIN
— Charles Solomon (@CoachSolomon2) March 19, 2023
Until next time…
Have a question, comment or something you'd like to see in a future Prep Rally newsletter? Email me at eric.sondheimer@latimes.com, and follow me on Twitter at @latsondheimer.
Did you get this newsletter forwarded to you? To sign up and get it in your inbox, click here.