When Mike Bohn walked into the interview room with the president of the University of Cincinnati in 2014, he saw a familiar face.
Cincinnati hired Chuck Neinas, Bohn's mentor and prominent college athletics consultant, to lead the search for its next athletics director. Neinas assisted in the San Diego State and Colorado searches for Bohn as athletic director.
"I was there when he was interviewed," Neinas told the Los Angeles Times in 2019. "At the end of the interview, the president was throwing softball questions at her to make her look good."
Cincinnati offered Bohn the job, and he accepted. Five years later, he found success at Cincinnati in a more prestigious position at USC.
Bohn resigned from USC last Friday after The Times asked him and USC questions about internal criticism of his management of the department and his conduct as the Trojans' athletics director. The news came as a surprise to Neinas, who had served as Bohn's guide and staunch supporter throughout his career.
"Well, I would say, number one, it's bull … but then I'm not objective," Neinas said in an interview with The Times Thursday morning.
"He brought in Lincoln Riley, which was a tremendous move, and he turned the football program around, created a lot more interest in Trojan athletics. And then to be able to triple their revenue by moving to the Big Ten Conference, putting the organization in a very strong financial position, and voted athletic director of the year by its members. You would tell him that the boy is on a roll, wouldn't you?'
Mike Bohn resigned as USC's athletic director last week.
(David Zalubowski/Associated Press)
Concerns raised about Bohn included staff members becoming uncomfortable with inappropriate comments and Bohn's absence from meetings and major USC athletic events.
"First of all, he inherited a staff (at USC)," Neinas said. "He really didn't have a chance … I think he brought a couple of people from Cincinnati, so he inherited a staff. He didn't handpick his employees. And Mike is a very outgoing manager type of person. He won't be the guy in the closed-door office. He's trying to do PR for Trojan athletics, trying to raise money. He's not the one sitting in the office. That's not his MO. From what I understand he was successful in that. It seemed to reach people who were happy to donate to USC again."
The Times found that concerns about Bohn were also raised in Cincinnati. Five women who worked with Bohn during his five years in Cincinnati told The Times that he created a workplace that was hostile, anxious and toxic for women.
"I can't believe that," Neinas said. "You can talk to anyone in the business of college athletics, and they'll tell you that Mike Bohn is one of the nicest people in the business. … He's very sensitive about it, which I think makes the accusations about his treatment of women suspect."
Across the industry, few have been more influential in getting football coaches and athletic directors their big break than Neinas, a former Big Eight Conference commissioner in the 1970s whose power only grew as chief executive of the College Football Assn. In the 1980s and 1990s.
Neinas and the CFA prompted the University of Oklahoma and the University of Georgia to sue the NCAA over the institutions' control over schools' media rights, a landmark case that led to a 1984 Supreme Court ruling that gave congresses and schools the ability to sell their games to television networks and profit. Neinas' fingerprints are on the evolution of college sports into big business.
In 1997, Neinas left CFA and soon began advising athletic departments on football coaching and athletic director hiring. His pursuit of Oklahoma in 1999 landed the legendary Bob Stoops, who led the Sooners to a national championship in his second season.
All three of Bohn's employers before USC—Cincinnati, Colorado and San Diego State—counted on Neinas' advice for the searches that led to Bohn's hiring.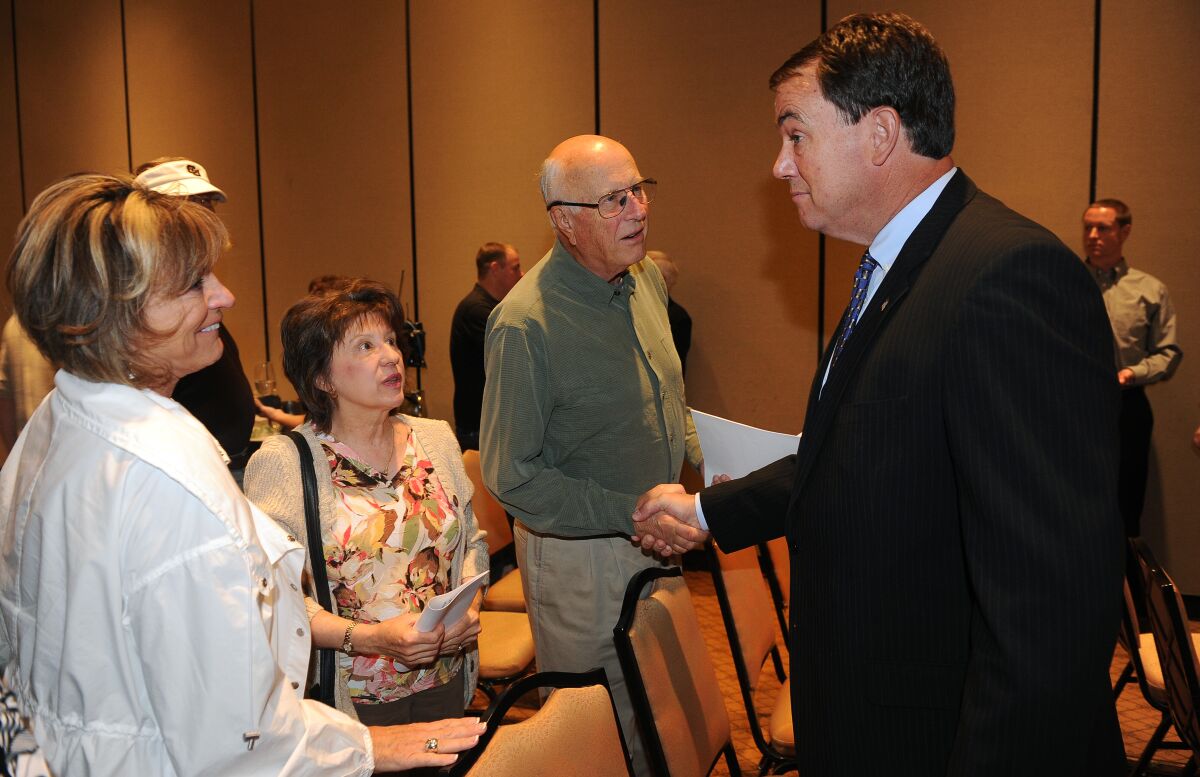 Mike Bohn, far right, shakes hands with Chuck Neinas after he resigned as Colorado's athletics director in 2013.
(Helen H. Richardson/Denver Post via Getty Images)
For those who knew Neinas was part of Cincinnati's search process and Bohn was a candidate, Bohn getting the job was a mere formality.
"Once Chuck handled the search and Bohn got involved, it was over," said one sitting former college athletic director, who asked not to be identified because discussing the search could hurt his future job prospects. "He was a father figure."
"Chuck Neinas is very powerful," said B. David Ridpath, a professor of sports business at Ohio State University and a member of the Drake Group, an industry watchdog for college athletics. "(He) has a lot of power in college football circles and certainly if Chuck Neinas is going for somebody or pulling somebody, that person will potentially have a leg up."
Neinas laughed at Bohn's assertion that he got the job because of their relationship. He stated that he was not involved in the USC search. The turnkey search — not Neinas, who is 91 — led the search that led USC to hire Bohn in November 2019.
"He won the Cincinnati job," Neinas said Thursday. "Under his watch, they redid the basketball facility, hired Luke Fickell (as football coach) and took Cincinnati (to the College Football Playoff). That's not bad."
Neinas and Bohn first crossed paths in 1992, when Bohn was the Air Force Academy's associate athletics director. Neinas was looking to expand his staff at CFA to include someone to handle promotions and sponsorships, and Air Force athletic director John Clune brought Bohn's name to Neinas. With CFA from Boulder, Colo., and Bohn from Boulder, the pairing seemed like a natural fit for both parties.
In 2003, the San Diego Union-Tribune reported that Neinas was Bohn's primary reference when San Diego State hired Bohn out of the University of Idaho, his first athletic director position.
On April 19, 2004, the Union-Tribune reported that Bohn had sent a letter to San Diego State President Stephen Weber requesting a department-wide evaluation and recommending Neinas Sports Services.
"It is imperative," Bohn wrote, "that all aspects of the Athletic Department be examined by an independent third party. … Mr. Neinas is a former principal with whom I worked nine years ago. His honest, hard-nosed, intellectual style will not be compromised by our previous efforts."
San Diego State paid Neinas nearly $11,000, according to the Union-Tribune, for an 11-page report that was "double- and sometimes triple-spaced and contained little specific criticism or administrative suggestions."
"It's a credit to Mike Bohn that he was proactive and recognized the need to develop the TEAM concept," Neinas wrote. "I have every confidence that Mike Bohn and other members of his staff will develop imaginative and successful marketing and fundraising programs."
Two months after San Diego State made Neinas' evaluation public, Colorado hired Neinas to lead its search for an athletic director. The winner will be charged with cleaning up a department beset by allegations of sexual misconduct against football players.
Big 12 Conference Interim Commissioner Chuck Neinas speaks at a press conference announcing West Virginia's joining the conference in November 2011.
(David Smith/Associated Press)
According to the Union-Tribune, Neinas was asked by Colorado to offer three candidates to a selection committee. But when asked for information on all the finalists, Colorado officials said Neinas had only forwarded Bohn's name to Interim Chancellor Phil DiStefano.
Colorado paid Neinas $39,000 to conduct the search.
San Diego State hired Neinas to find Bohn's replacement and paid him more than $30,000.
Under Bohn's leadership, Colorado hired Neinas to consult on the selection of two football coaches: Dan Hawkins in 2005 and Jon Embree in 2010. Hawkins went 21-39 in five seasons before Bohn fired him, while Embree went 4-21 in two seasons before Bohn. let him go
In May 2013, after eight years in Colorado, Bohn held an emotional press conference in which he defended his record and insisted he was forced to resign.
"I want to make sure you know," Bohn wrote in an email to Colorado staff obtained by the Boulder Daily Camera, "that as my official separation agreement states, I have not engaged in any impropriety, NCAA violation, violation of university policy, or anything of the sort. immoral, dishonest or other misconduct.'
Asked Thursday morning by The Times about Bohn's departure from Colorado, Neinas laughed and said, "He was more popular than the president."
Bohn told The Times in 2019 that he was blindsided by Colorado's departure and worked with Neinas as he considered his next steps.
Eight months passed before Cincinnati advised Neinas on her quest. Cincinnati hired Bohn as its athletic director in February 2014.
Bohn committed to USC and on June 30, 2022, about three years after he was recruited by the Trojans, USC and UCLA shook the college sports landscape by announcing that they would be leaving the Pac-12 for the Big Ten.
That day, Neinas told The Times that he was scheduled to play golf with Bohn the next day. Instead, Neinas said Bohn called him that morning to say the Big Ten presidents approved USC's big move.
Neinas beamed with pride at what Bohn had done at USC.
"For the first time in years, USC has a bona fide athletic director, rather than a former football player," Neinas told The Times in 2022. "I think he's proven his worth."
On Thursday, Neinas doubled down on this position.
"Just remember," said Neinas, "I learned early in life, envy is a terrible thing. Do you think some people envy Mike? Did he get (silk)?"