President Joe Biden traveled to El Paso, Texas, on Sunday to assess enforcement operations at the U.S.-Mexico border — his first trip there since taking office — just days after his administration announced new restrictions on asylum seekers amid record numbers of migrants attempting to cross into the U.S.
While there, Biden plans to demand Republicans in Congress fully fund his request for border security resources and to work toward comprehensive immigration reform, a White House official said. The trip comes amid repeated Republican criticism of the president for not traveling to the southern border sooner and of what they say are the ineffective policies of his administration as the situation there has worsened.
President Joe Biden speaks with Customs and Border Protection police on the Bridge of the Americas border crossing with Mexico in El Paso, Texas, on Sunday.Jim Watson / AFP – Getty Images
During his visit to El Paso, Biden assessed enforcement operations at the Bridge of the Americas Port of Entry — the busiest port in El Paso, which recently received $600 million through the bipartisan infrastructure law. He was joined on his visit by Homeland Security Secretary Alejandro Mayorkas; Texas Democratic Reps. Veronica Escobar, Henry Cuellar, and Vicente Gonzalez; and community and business leaders, including El Paso Mayor Oscar Leeser and County Judge Ricardo Samaniego.
Biden will also visit the El Paso County Migrant Services Center and meet with community leaders, including those of religious groups and nonprofits that have helped managed the surge of migrants, the official said.
Upon landing, Biden was greeted by the members of Congress and other officials, including Republican Gov. Greg Abbott, who handed the president a letter demanding he take further enforcement actions at the border. The demands included that Biden work to detain, prosecute and remove more migrants under current federal laws and resume border wall construction, which the president largely halted after taking office, according to a copy of the letter provided by the Texas governor's office.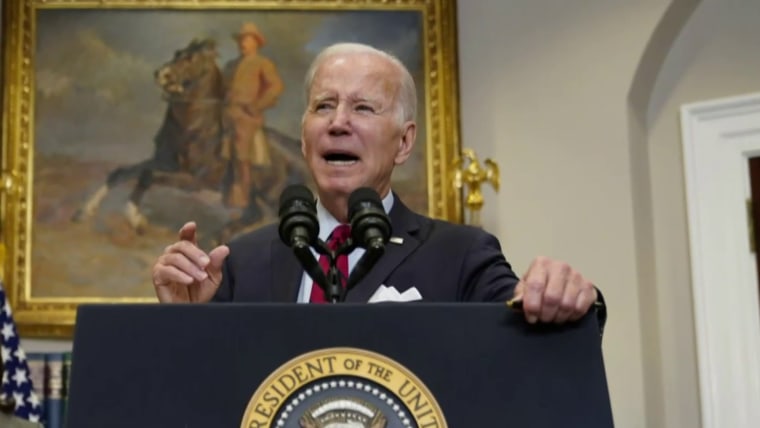 After his visit, Biden will travel to Mexico City later Sunday to attend the North American Leaders' Summit.
The president's visits comes days after his administration announced additional measures to increase border security. The new policies limit asylum claims at the southern border and expands the use of the Trump-era Covid ban known as Title 42 while increasing the number of legal paths for some migrants to apply for asylum.
Title 42 will be used to send thousands of Cubans, Haitians and Nicaraguans each month back over the southern border. But the administration will also expand legal pathways for migrants to apply for asylum in the U.S. without making the journey north. Previously, Haitians, Cubans and Nicaraguans had been able to skirt Title 42, which prevented more than 1.4 million border crossings by forcing migrants back into Mexico before they could claim asylum. They were exempted in part because their home countries, and therefore Mexico, refuse to take them back. 
In his remarks outlining the policy changes Thursday, the president blamed congressional Republicans for blocking a more comprehensive plan that he unveiled upon taking office in 2021.
"The failure to pass and fund this comprehensive plan has increased the challenges that we're seeing at the Southwest border," Biden said, adding that border enforcement actions "aren't going to fix our entire immigration system, but they can help us a good deal in managing what is a difficult challenge."

Summer Concepcion
Alexandra Bacallao contributed.