Two strong storm systems are expected to batter the East and West coasts simultaneously as California faces a fresh threat of flash flooding and heavy mountain snow.
The arrival of the "separate but potent" low-pressure systems has left 22 million people under winter weather alerts and will see both sides of the country slammed with severe weather. Widespread precipitation linked to a system across the Pacific Northwest is expected to move southward into California, the National Weather Service said.
The system, fueled by an atmospheric river, is forecast to slam into the already storm-battered state Monday across Northern California, and eventually bring heavy rain to central and Southern California on Tuesday. Around 17 million people in California were under flood watches Monday, and southern parts of the state will likely be added to the flood watch list.
Heavy snow is also forecast for higher elevations of the Sierra Nevada, the agency said.
The UC Berkeley Central Sierra Snow Lab, a research institute based in Soda Springs, a census-designated place about 89 miles northeast of Sacramento, tweeted Monday morning that the area had already seen 13.2 inches of snow in the last 24 hours and was expecting up to 30 more through Tuesday.
Rainfall amounts could reach 6 to 8 inches in parts of the Sierra Nevada and Southern California in the coming days. Snowfall amounts will be up to 4 feet above 7,000 feet and 8 feet above 9,000 feet.
"Considerable flooding impacts" are also expected below 5,000-foot elevation along the central California coast, San Joaquin Valley, Sacramento Valley and southern Sierra Nevada foothills into Tuesday, it said.
Areas most likely to see isolated flooding Monday include Eureka, Redding and Santa Rosa, California.
A flooded neighborhood in storm-battered Watsonville, Calif., on Saturday.Josh Edelson / AFP – Getty Images
The weather service further warned that heavy rain and snowmelt could lead to renewed and more widespread flooding, particularly in low elevations.
"Some heavy snow can also be expected farther inland across the Intermountain West, especially central Idaho and western Wyoming," it said.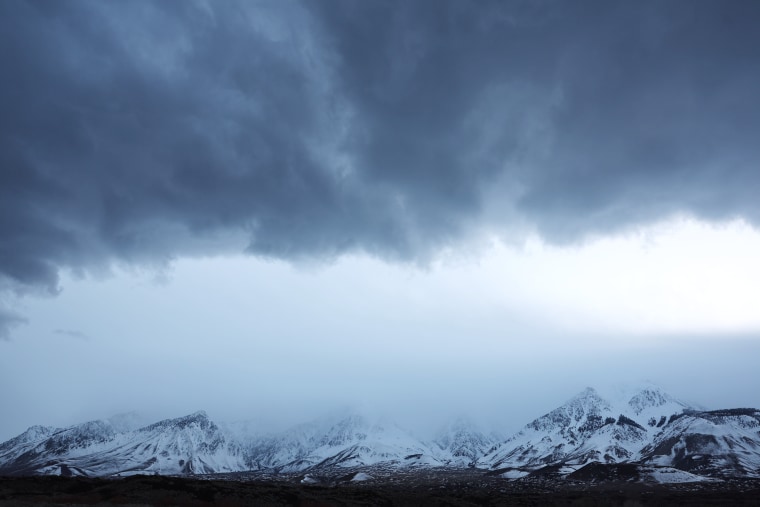 Clouds above the snow-covered Sierra Nevada on Sunday near Lone Pine, Calif.Mario Tama / Getty Images
The latest round of severe weather comes following major flooding over the early weekend that saw dozens of people rescued by first responders and the California National Guard, according to The Associated Press.
One video showed a member of the Guard helping a driver out of a car trapped by water.
California Gov. Gavin Newsom has declared emergencies in a string of counties in recent weeks, with the Biden administration also vowing continued federal support.
New England storm
Meanwhile, a clipper system moving east through the lower Great Lakes was expected to bring light to moderate snowfall across the Great Lakes before reaching New England.
"Farther south, a wavy front is forecast to bring some severe thunderstorms across the Southeast through tonight," the weather service said Monday.
"This wave is forecast to interact with the clipper system moving across the Great Lakes and intensify rapidly into a potent nor'easter off the New England coast on Tuesday, bringing heavy wet snow inland and high winds with rain/snow near the coast."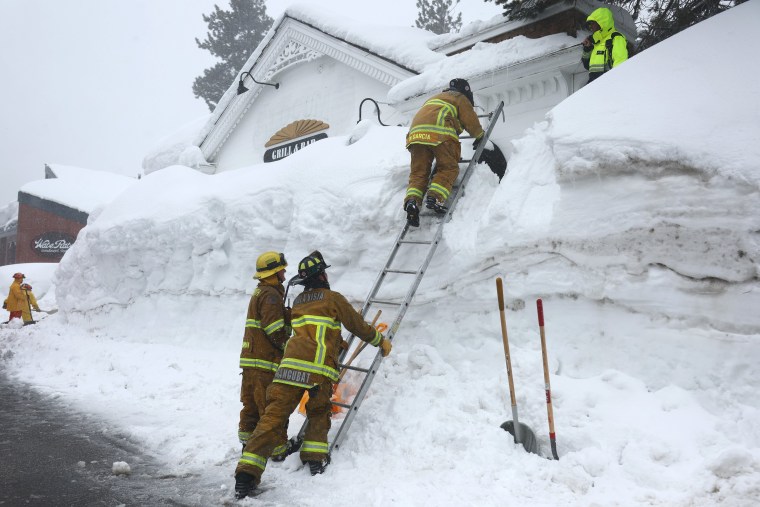 Firefighters respond to a small fire at a shuttered restaurant surrounded by snowbanks Sunday in Mammoth Lakes, Calif.Mario Tama / Getty Images
Heavy snow rates of up to 2 inches per hour are possible, while strong winds from the nor'easter could make travel "dangerous to near impossible," the weather service warned. The severe weather conditions could also lead to outages and tree damage, it said.
Winds will also crank up, with wind gusts of 50 to 60 mph likely, especially right along the coast. This could result in blizzard conditions in some areas.
Higher elevation areas across the interior Northeast could see more than 12 inches of snow, it said. It further warned that some areas, including the Catskills in New York, the Berkshires in western Massachusetts, and the southern Green Mountains in Vermont, could see localized higher snowfall amounts.
"Widespread minor coastal flooding may be possible Monday night through Wednesday as the low pressure deepens off the coast of New England with high winds most likely near Cape Cod later on Tuesday," the weather service said.
Prepping in New York
At a news conference Monday, New York Gov. Kathy Hochul said that the storm "could be deadly" and that it will bring "serious loss of power." She urged New Yorkers to spend Monday preparing for the storm and to plan to stay home Tuesday.
"That's the No. 1 message — there's no reason in the world to have plans to be out tomorrow," she said.
New York will enter a state of emergency beginning at 8 p.m. Monday, Hochul said. The National Guard has been deployed throughout the state, she added.
The Albany area could see 1 to 2 inches of snow per hour, the National Weather Service of Albany said, with the governor's office adding that could amount to up to 3 feet by Wednesday morning.
New York City and Long Island could see up to 2 inches of snow and are expected to see heavy winds and rain, and the state's western and Finger Lakes regions could see 8 inches or more of snow by Wednesday, according to the governor's office.
Power company PSEG Long Island said in a statement that it was preparing for potential outages that could be caused by high winds of up to 48 mph that could pull down wires. Con Edison, which serves New York City and Westchester, said Monday afternoon it is "securing extra crews and mobilizing for the winter storm."
On Wednesday, the system will move away from the coast, with morning snow lingering along coastal New England. Winds will stay strong all day in much of the Northeast.