An 'endless onslaught'
Just as one episode of heavy rain across the state began to wind down, another low-pressure system rapidly gained strength off the West Coast, barreling toward the state, according to the National Weather Service.
"The endless onslaught of potent systems with atmospheric rivers of moisture continue to inundate California," it said.
Moderate to heavy rain was expected across much of California into the night, while several feet of snow were expected along the Sierra Nevada, it said.
Officials issued immediate evacuation orders Monday for the entire community of Montecito, as well as for parts of Santa Barbara and other nearby towns, because of heightened flood and mudslide hazards.
Firefighters block California 192 Foothill Road while the Arroyo Paredon Creek overflows because of heavy rain in Carpinteria on Monday. Apu Gomes / AFP – Getty Images
In Montecito, which is home to 10,000 people, Monday's flooding came five years to the day after heavy rain hammered a Montecito "burn scar," killing nearly two dozen people.
The severe weather also forced Santa Barbara Airport to close, the airport tweeted Monday.
"All commercial flights are canceled until further notice, and the terminal is closed," it said. The airport said its reopening would be "dependent on the weather and conditions."
In Chatsworth, a neighborhood in Los Angeles, four people were trapped after two cars were swallowed by a sinkhole that "compromised" an entire road Monday night, the Los Angeles Fire Department said.
Two people were able to get out of the sinkhole, while firefighters were able to safely extricate the two others, who were treated and taken to a hospital with minor injuries, it said.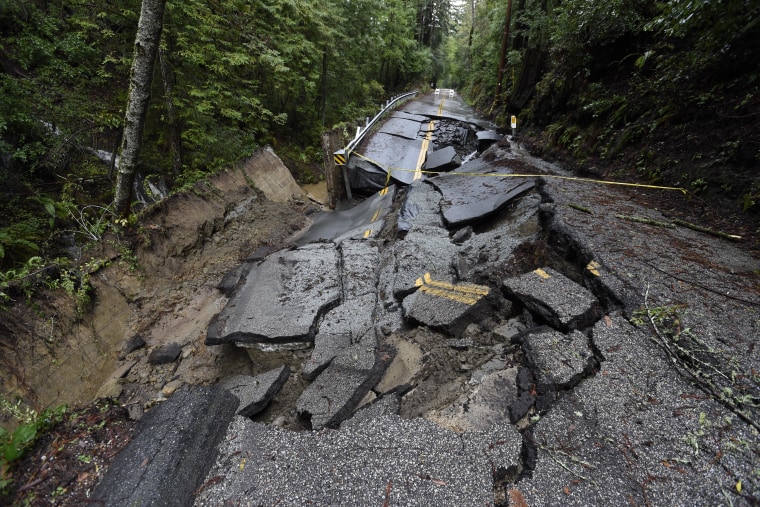 Damage on the road after heavy rain in the Santa Cruz Mountains in Scotts Valley, Calif., on Monday. Neal Waters / Anadolu Agency via Getty Images
Maria Aldana, 26, who lives in the northern Los Angeles County community of Lancaster, couldn't believe her eyes when she saw sidewalks swallowed up by rainwater Monday night.
Aldana was grateful to be driving her dad's truck and not her usual Toyota Corolla.
"When we were passing by, we were like, 'Dang if we would have come in my car, this would have been a lot worse,'" she said. "A 2023 Tacoma is very high."
Nearly all of California has had higher-than-average rainfall totals over the past several weeks, with totals 400% to 600% above average, according to the weather service.
Climate change has made extreme precipitation in California twice as likely, with extreme weather predicted to generate 200% to 400% of surface runoff — rainwater that can't be absorbed by soil — by the end of the century, according to research by the UCLA environment and sustainability department.
The recent severe weather prompted Gov. Gavin Newsom to declare a state of emergency last week, while President Joe Biden issued an emergency declaration Sunday to support the storm response.
'Enormous cyclone' to strike Wednesday
Tuesday's storm system was expected to push inland in the evening, bringing widespread mountain snow across the Great Basin, but an "enormous cyclone forming well off the coast of the North American continent will bring yet another Atmospheric River toward the West Coast — this time impacting areas further north from northern California northward up the coast of the Pacific Northwest" on Wednesday, the weather service said.
"When all is said and done, precipitation totals over the next few days will be in the 3-7 inch range through the Transverse Range of Southern California, northward along the central to northern California coast ranges and through the Sierra," it said.
The weather service warned that widespread flood impacts were likely across large parts of California into western Nevada.

Dennis Romero
Chantal Da Silva

David K. Li
Tim Stelloh, Helen Kwong and Janhvi Bhojwani contributed.