Comcast cable outages reported in the Philadelphia area
Various Twitter users have reported some Comcast cable outages in the Philadelphia area — a particularly inopportune time for an outage.
On Twitter, Comcast has replied to several tweets complaining about the outage. Comcast owns NBCUniversal, the parent company of NBC News.
"We understand how frustrating it is to be without service. The Xfinity app is the place to go to find updates. You can also visit the Outage Status Center: https://xfinity.com/support/status/. We're working to get things back up and running as quickly as possible," the tweets read.
Eagles coach brought to tears during anthem
Philadelphia Eagles coach Nick Sirianni was seen having an emotional moment during the Super Bowl broadcast just moments before the coin toss.
Sirianni cried during the roughly 2-minute performance of the national anthem by Chris Stapleton.
Chiefs win coin flip, and that might not be good for K.C.

Coin flip winners Kansas City hope to buck history, as the last eight pregame toss victors have gone on to defeat.
Assuming a coin flip winner has had a 50% chance of winning, this 1-in-256 occurrence had Arizona State University math professor Eric Kostelich wondering whether it wasn't a statistical fluke but a fundamental failure in strategy: "I'm no coach, but it could be that whatever choice the team made was not optimal." 
Each of those eight coin-flip winners elected to play defense first, with coaches chasing a momentum-turning "double dip" to score just before intermission and then again to open the second half, "Football Night in America" analyst Jason Garrett said.
Garrett, a former Dallas Cowboys head coach and Princeton alum, disagrees with the knee-jerk defense-first approach: "If we felt that we had the better offense versus their defense and could move the ball and score, we would take the ball. If our defense had a better chance to have success and stop them, we would defer and go play defense."
All-female fighter jet crew performs Super Bowl flyover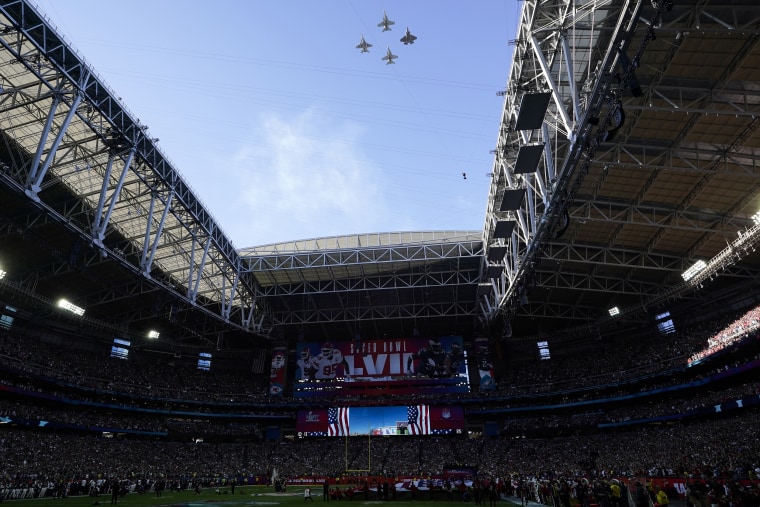 The first all-woman-piloted military flyover, commemorating 50 years of women flying in the Navy, over State Farm Stadium before the Super Bowl in Glendale, Ariz.Seth Wenig / AP
For the first time, the Navy fighter jet crew that performed the flyover for the Super Bowl was an all-female crew. The occasion is meant to commemorate the 50th anniversary of women flying for the Navy.
The majority of the ground crew coordinating the flyover were also women, according to The Aviationist website.
Chris Stapleton and Troy Kotsur perform the national anthem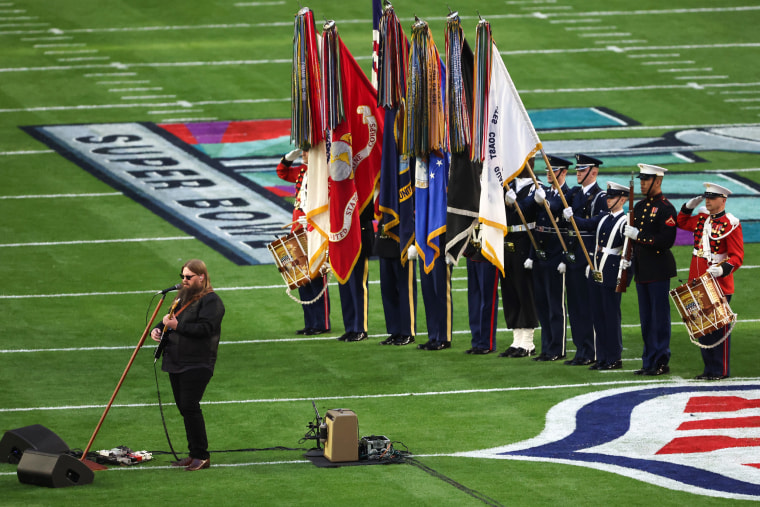 Chris Stapleton performs the national anthem Sunday before the Super Bowl in Glendale, Ariz.Sean M. Haffey / Getty Images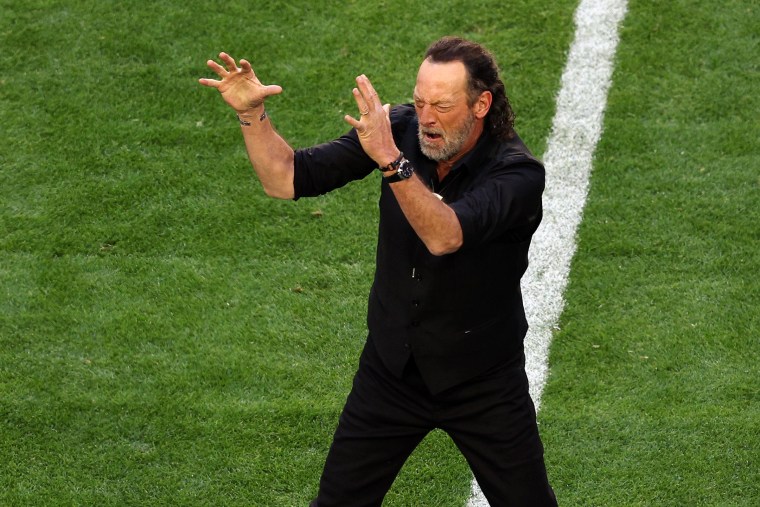 Troy Kotsur signs the national anthem Sunday.Rob Carr / Getty Images
"Tennessee Whiskey" singer Chris Stapleton delivered a blues-infused rendition of the national anthem, accompanied by a sign language interpretation by the deaf Oscar-winning actor Troy Kotsur.
Time of national anthem: A little more than 2 minutes

Chris Stapleton belted out "The Star-Spangled Banner" in just a hair more than 2 minutes.
Bookmakers had set the over/under for Stapleton's time at about 2 minutes and 2 seconds.
An unscientific timing of it by NBC News placed the time of his performance right at 2 minutes and 2 seconds.
DJ Khaled seems to be everywhere

It wouldn't be a major event if DJ Khaled didn't make an appearance.
The rapper appeared in two intro videos, one for the Chiefs and one for the Eagles.
Is it worth it, financially, for a city to host the Super Bowl?

One economist has written a book on the subject and found the numbers don't always add up in the venue's favor.
Victor Matheson, a professor at the College of the Holy Cross, has estimated the games generate as little as $30 million and as much as $130 million for their host cities and regions — a fraction of the $500 million often claimed in economic impact by other sources. "Not nothing, and not what you would sneeze at," Matheson told the New York Times in 2018, "but somewhere between a quarter and a tenth of what is being claimed." 
Meanwhile, Glendale's State Farm Stadium, where Sunday's game will be played, has incurred $321 million in construction costs, including $179 million still owed by the state's stadium authority — in other words, taxpayers — despite having been in operation for nearly two decades now, according to NBC affiliate 12 News.
"It's unclear how much, if any, of the 2023 Super Bowl's revenue will go toward paying off the remaining construction debt, especially since this is the third Big Game the stadium has hosted since being built," 12 News' Hunter Bassler wrote.
Dallas Cowboys QB Dak Prescott honored for winning NFL's 'Man of the Year' Award

The NFL awarded its 2022 Walter Payton "Man of the Year" award to Dallas Cowboys Quarterback Dak Prescott.
The award, named after the legendary Chicago Bears running back, honors the NFL player who best exemplifies the league's values on and off the field. The award was announced Thursday, but Prescott was recognized ahead of the Super Bowl's kickoff. Some boos could be heard as his name was announced — presumably by fans of NFC East rival Philadelphia Eagles.
Big day for the birds

Oh right, those birds too…
Why do Super Bowl commercials roll out so early now?

Brands that have commercials lined up during the Super Bowl are already guaranteed to gain mass attention, given that the game is among the most watched televised broadcasts every year.
But in recent years, brands have opted to release their ads days before the actual game. That's because marketers have discovered that releasing the ads early can help generate even more attention and buzz (remember when Planters killed Mr. Peanut during a pre-Super Bowl ad?)
The downside? It may take away some of the excitement for viewers who like to be surprised by the big ads.
Sheryl Lee Ralph gives goosebumps with 'Lift Every Voice And Sing '
"Abbott Elementary" star Sheryl Lee Ralph has absolutely slayed this rendition of "Lift Every Voice and Sing" in a stunning red gown.
Ralph is the first to sing the show as part of a Super Bowl pre-game show, 123 years after the song was first sung publicly. The performance could be described as reverent, with Ralph's powerful voice resonating through the stadium.
Cincinnati, Buffalo first responders honored

Medical staffs of the Buffalo Bills and the Cincinnati Bengals, hospital staffers and first responders were honored before the game for their lightning-fast work that most likely saved the life of Bills safety Damar Hamlin.
The honorees hugged a smiling Hamlin, who greeted them in the end zone.
Where's Beyoncé? Jay- Z spotted with daughter Blue Ivy
Jay-Z rolled in to the stadium alongside his 11-year-old daughter, Blue Ivy Carter, which can only prompt one question: Where is the queen, Beyoncé?
Blue Ivy could almost be mistaken for her mother, however, as the preteen appears to be a perfect blend of her parents' genetics.
And this reporter is feeling pretty old after seeing Blue Ivy nearly matching her father's height.
The Chiefs are the most popular football team, YouGov data says

The game hasn't started yet, but the Chiefs have already won an important distinction: most popular team.
Data from YouGov, a British international internet-based market research and data analytics firm, found the Chiefs are the most popular football team among adults.
Just behind the Chiefs are the Notre Dame Fighting Irish, then the Pittsburgh Steelers, according to YouGov.
The NBA's all-time scoring king is at the Super Bowl

LeBron James and his wife, Savannah, took their luxury seats at the big game, five days after he broke the NBA's career scoring record.
A sore ankle has kept James on the sidelines in the two games since he climbed to the top of the all-time points list.
What NBC Sports NFL analyst Chris Simms is watching for

If you need a quick cheat sheet of what each team's strengths and weaknesses are, check out this Twitter thread from NBC Sports analyst Chris Simms, a former NFL quarterback.
WM Phoenix Open is also happening right now

The WM Phoenix Open isn't stopping just because the Super Bowl is in town. The golf tournament is estimated to draw nearly a million fans to the area, according to local reports, while tens of thousands of fans attend the Super Bowl.
The WM Phoenix Open is happening in Scottsdale, Arizona, while the Super Bowl prepares to kick off in Glendale — roughly 30 minutes apart.
The tournament began early, according to Golf.com, to account for the Super Bowl.
Damar Hamlin showing support on the field
Buffalo Bills safety Damar Hamlin, who collapsed during a game last month, was spotted on the sideline Sunday showing love to an old friend.
The NFL tweeted a video of Hamlin dancing and shaking hands with Eagles running back Miles Sanders. The pair have been friends since childhood, the NFL noted in its caption.
It's a young man's game today

The 51 combined years that quarterbacks Jalen Hurts, 24, and Patrick Mahomes, 27, have spent on this planet make today's the youngest QB matchup in Super Bowl history.
Barely.
Their combined age of 51 years and 337 days edges the Joe Montana-Dan Marino contest on Jan. 20, 1985, when the San Francisco 49ers and the Miami Dolphins QBs were 51 years and 350 days old.
And somewhere out there, 45-year-old Tom Brady is taking a rare Super Bowl Sunday off. He's retired from the sport, for now.
North Carolina students send their Eagles super fan teacher to the Super Bowl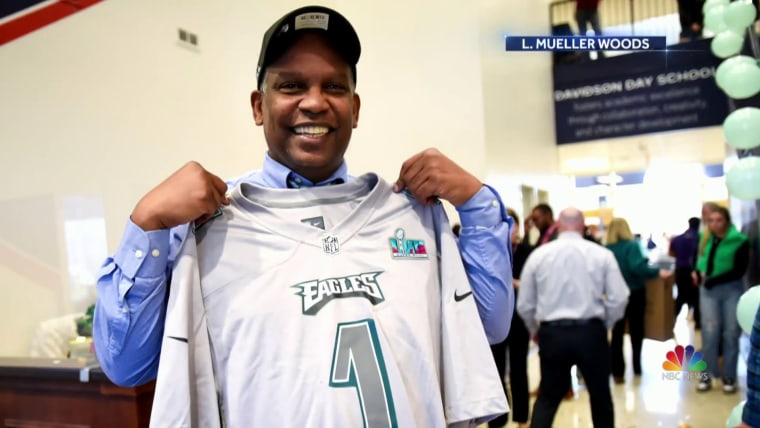 Inside the failed negotiations for Biden's Super Bowl interview on Fox
President Joe Biden's decision to break the recent tradition of sitting for an interview with the network broadcasting the Super Bowl came after a series of discussions between Fox and White House officials.
Fox proposed having one of its news anchors, such as Bret Baier or Shannon Bream, conduct the interview, said a person familiar with the matter, but the president's team rejected those choices and decided about 72 hours before kickoff that he would do the interview with the network's little-known streaming channel Fox Soul.
The back and forth spilled into the public view Friday morning, when White House press secretary Karine Jean-Pierre tweeted that Fox Corp. had canceled the Fox Soul interview. Several hours later, Fox Corp. said in a statement that there had been "confusion" with the White House and that the interview with Fox Soul was back on track with actor Vivica A. Fox, the host of Fox Soul's "Cocktails with Queens" and "Fox Soul's Screening Room," as well as Fox Sports sportscaster Mike Hill, a Fox Soul personality and contributor.
"As we said earlier, we had arranged an interview with FOX Sports Host Mike Hill & Vivica A. Fox with the President ahead of the Super Bowl and Fox Corp had the interview cancelled," a White House official said in a statement later Friday. "FOX has since put out a statement indicating the interview was rescheduled, which is inaccurate."
To read more, click on the link below.
Don't expect to see many crypto ads this year

If one common theme emerged from last year's crop of Super Bowl ads, it was crypto. This year, that will not be the case.
The Associated Press reported that one year after four cryptocurrency companies lavished money on big-name celebrities like Larry David and Matt Damon for Super Bowl ads, there will be zero such ads this year.
The big reason, the AP said: The Tom Brady-backed FTX crypto exchange collapsed and filed for bankruptcy and its co-founder Sam Bankman-Fried has been charged in a scheme to defraud investors.
Still, we probably haven't heard the last of these firms: The price of Bitcoin is once again rallying — up about 33% year to date, to nearly $24,000.
And the the Puppy Bowl XIX winner is…

Team Fluff has won Puppy Bowl XIX, 87-83, after an intense game that went into overtime after a double touchdown from both teams.
The adorable pups will be put up for adoption after the game in search of their FURever homes!
NBC News' Jacob Soboroff reporting from the sidelines
Super Bowl tickets are HOW much?

Ticket prices for this year's game were slightly below average for Super Bowl games that have been played in the pandemic and post-pandemic era, according to ticket reseller SeatGeek.
Of course, that doesn't mean they wouldn't have set you back thousands of dollars.
As of Thursday, SeatGeek said, the cheapest available ticket was $4,238, while the most expensive was $30,469. The average of $6,794 is well below the approximately $9,500 average for much of last month, thanks mostly to more tickets' becoming available.
JuJu Smith-Schuster scores fashion TD

Kickoff is still more than two hours away, but one victor has already been declared: JuJu Smith-Schuster won the Super Bowl red carpet.
No touchdown grab could possibly capture more attention than his look as Smith, a sixth-year veteran out of the University of Southern California, sashayed into State Farm Stadium.
Well wishes from Shakira

We love to see icons supporting other icons.
Shakira, who performed at the 2020 halftime show with Jennifer Lopez, sent Rihanna positive vibes Sunday:
Manifesting a Tom Holland cameo at Halftime

Something that lives rent-free in my head is the clip of Tom Holland performing to Rihanna's "Umbrella" on "Lip Sync Battle." Leading up to today, I played it a few times wondering … what if he made a cameo at the halftime show performance?
Apparently I am not alone. On Twitter, other Holland fans had the same thought.
Puppy Bowl doesn't exclude cat lovers

The Super Bowl might have Rihanna, but Puppy Bowl XIX had the Kitty Halftime Show.
Cat lovers online were pleased.
D'oh! Why your beer is probably pricier this year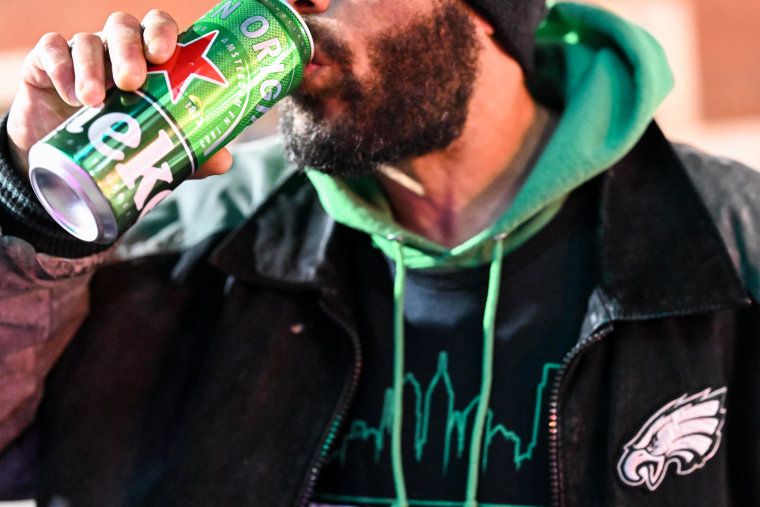 A street vendor drinks a beer while taking a break from selling Eagles-themed apparel in Philadelphia on Tuesday.Mark Makela / Getty Images
Bad news, beer lovers.
As the cost of all food has gone up over the past year, odds are the price of your favorite brew has gone up with it.
According to Wells Fargo's annual Super Bowl food report, which cites federal data, beer prices are up 11% from January 2022 — about in line with the overall increase of 11.8% for prices of food at home and more than the 8.3% increase for food away from home.
Soft drinks have gotten even more expensive — up 25% from a year ago, although at ​​$2.13, a 2-liter bottle is still relatively affordable. If you're still looking to save, wine and spirits are up a more modest 4% and 2% respectively.
A Chiefs player has a Super Bowl baby on the way

Mecole Hardman's day is off to an exciting start.
The Chiefs wide receiver early Sunday tweeted, "OMG HER WATER BROKE," referring to his girlfriend, Chariah Gordon.
He was placed on injured reserve this month and was not expected to play today.
It isn't the first time a player has welcomed a child on the day of the game. Last year, Los Angeles Rams wide receiver Van Jefferson's wife went into labor during the game against the Cincinnati Bengals. As soon as the game finished with a 23-20 Rams victory, Jefferson headed to the hospital.
It's a ruff Puppy Bowl so far

Team Fluff and Team Ruff are tackling left and right at the Puppy Bowl.
The reigning champion, Team Fluff, is coming in hot, leading the game so far.
The score is 35-28.
Football and the Super Bowl defy partisan divide in U.S.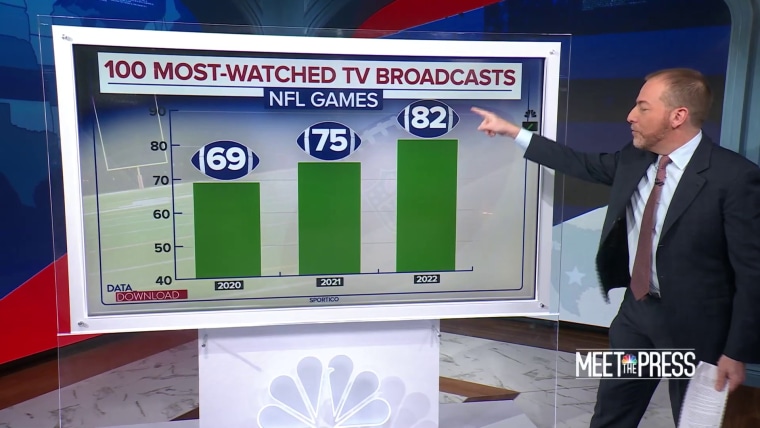 NFL MVP and Chiefs quarterback Patrick Mahomes arrives
Black history is part of the Super Bowl

Jalen Hurts of the Philadelphia Eagles and Patrick Mahomes of the Kansas City Chiefs will make history Sunday when two Black quarterbacks will face each other in a Super Bowl for the first time.
Hurts would be the fourth Black quarterback to lead his team to victory, following Washington's Doug Williams in 1988, Mahomes in 2020 and the Seattle Seahawks' Russell Wilson in 2013.
Only seven Black quarterbacks have started Super Bowls — racial stigmas against Black quarterbacks dating to the 1950s suggested they lacked the intelligence or the skills to successfully play the position. 
Check out NBC News' timeline of historic Black firsts in the Super Bowl.
Some come for sports. Others are here for the snacks.
Sure, the Super Bowl is technically about football. But it's also very much associated with really good food, from wings to dips to good ol' pizza. Here's a look at what some of NBC News' live blogging team is looking forward to eating today.
Saba Hamedy: I've never met a dip I didn't like, and Super Bowl Sunday is the day for me to indulge in every dip known to man.Jason Abbruzzese: Buffalo chicken dip.Rob Wile: A homemade chili recipe I've "created" over the years. I haven't served it in a while, but it's got everything from roast pork to beets.Crystal Minaya: Pretzel crips with red pepper hummus or coconut almonds with dark chocolate.Morgan Sung: Jalapeño poppers. I had them for the first time last year, and it changed my life.Ryan Beckler: Buffalo wings and Philly soft pretzels.Kalhan Rosenblatt: Buffalo wings and soft pretzels.Joshua Feldman: Buffalo wings.
It's Always Sunny in Glendale
Native activists to demonstrate outside State Farm Stadium
A Native American group will rally outside State Farm Stadium at 2 p.m. local time to protest the use of the "Chiefs" name and image by the Kansas City Chiefs.
The group, Arizona to Rally Against Native Mascots (Az Rally), said it is calling "for the immediate retirement of the Kansas City name, logo, and any and all Native American appropriation owned and used by the team." That includes the team's signature "big drum" and "tomahawk chop" chants, the group said.
"For decades the Kansas City team has been guilty of Native American appropriation," the group wrote in a news release shared on Facebook ahead of Super Bowl Sunday. "And for decades they've been met with adamant and consistent resistance from the Native American community, specifically the Native American community in the Kansas City region. For years these Native communities have protested at home and away games and have put in years of resources and sweat equity to urge the franchise to do away with Native appropriation. Still, the franchise continues to stonewall Native people."
The Chiefs banned wearing face paint and headdresses in 2020, and they have touted their outreach to native groups, but they have resisted calls for an outright name change.
It isn't the first demonstration against the Chiefs in Arizona. In 2014, activist Amanda Blackhorse (Diné), who leads the Az Rally group, also led a protest during a Cardinals-Chiefs game.
Blackhorse was the lead plaintiff in the lawsuit challenging the use of the Redskins name by the Washington football team. In 2020, the team pledged to drop its name of 87 years, and last year it announced it would become the Commanders.
"Here we go again!" Blackhorse wrote on Instagram about Sunday's rally.
Calling all puppy lovers

Team Fluff and Team Ruff are about to battle out for the "Lombarky" trophy in Puppy Bowl XIX.
The 19th annual adoption show will include an AWEdorable 122 puppies from 67 shelters and rescues across 34 states (the biggest yet).
It starts now, so turn on Animal Planet, Discovery or TBS.
Happy #FentyBowl to those who celebrate

On Twitter, Rihanna fans already want it to be the Halftime show. By 1:30 p.m. ET, the hashtag #FentyBowl was trending on Twitter.
Actress Kerry Washington got in on the hype as well, sharing an Instagram post of herself wearing a shirt that reads "Rihanna concert interrupted by a football game, weird but whatever."
Let the countdown begin.
A Kelce family divided? Not so much

The Kelce brothers, Travis on the Chiefs and Jason on the Eagles, are squaring off today. Their mom is splitting the difference.
Super Bowl: Two Black QBs make history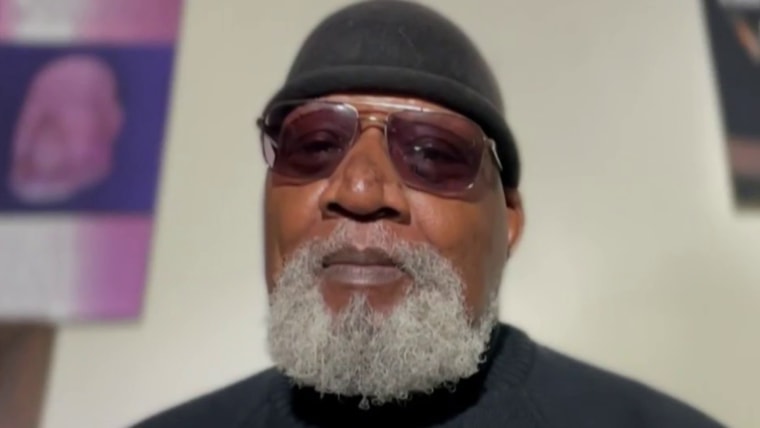 Betting on the 'Star Spangled Banner'? Yep, that's a thing.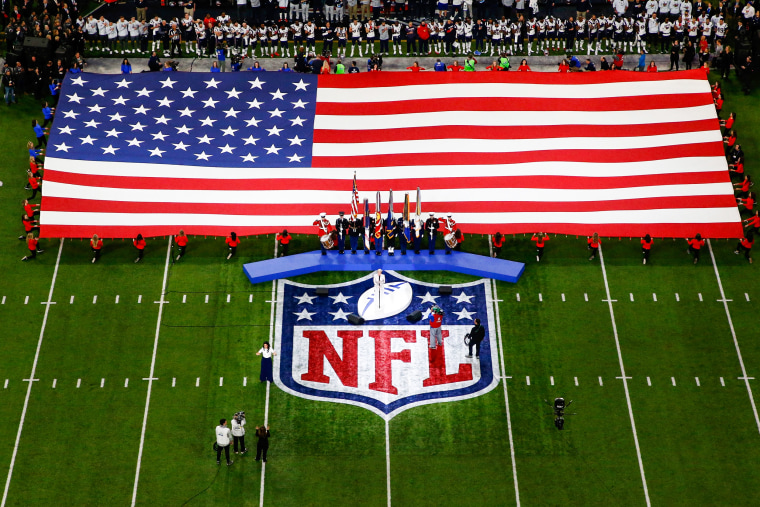 Pink sings the national anthem before the Super Bowl between the New England Patriots and the Philadelphia Eagles in Minneapolis on Feb. 4, 2018.Rob Carr / Getty Images file
You bet that the world's most hardened gamblers will be risking money on some ridiculous — but fun — Super Bowl bets, some of which have nothing to do with football.
One will be how long it takes for eight-time Grammy winner and country star Chris Stapleton to get from "O say can you see" to the final breath of "home of the brave."
The bet isn't sanctioned in the U.S., but plenty of offshore and U.K. books are taking anthem action. The line has been set at over or under 2 minutes and 2 seconds.
The history of Super Bowls in Arizona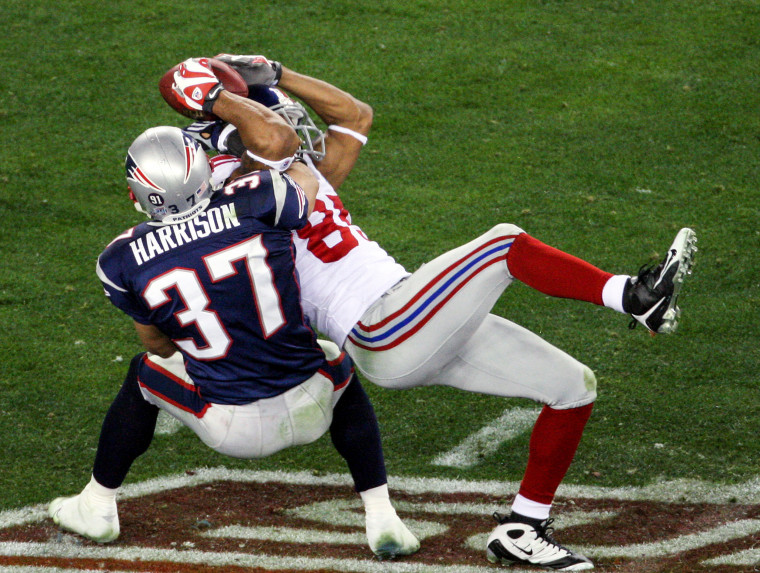 New York Giants wide receiver David Tyree pins the ball to his helmet as he catches a 32-yard pass late in the fourth quarter of the Super Bowl against the New England Patriots at University of Phoenix Stadium on Feb. 3, 2008.Ron Antonelli / NY Daily News via Getty Images file
When the Chiefs and the Eagles get it on this afternoon in Glendale, it'll mark the fourth time that pro football's ultimate game has been played in Arizona — with the last two being fierce desert duels.
The New England Patriots held on for a 28-24 win over the Seattle Seahawks on Feb. 1, 2015, thanks to Malcolm Butler's famed interception in the Glendale end zone of what was known then as the University of Phoenix Stadium.
David Tyree's famed "Helmet Catch" happened Feb. 3, 2008, in Glendale as the New York Giants beat the Patriots, 17-14, denying New England a perfect season.  
The first Arizona Super Bowl was played at Arizona State University's Sun Devil Stadium on Jan. 28 1996, as Hall of Fame quarterback Troy Aikman threw for 209 yards, a touchdown and no picks in the Dallas Cowboys' 27-17 victory over the Pittsburgh Steelers.  
The 1993 Super Bowl was supposed to be in Tempe, but the game was moved to the Rose Bowl in Pasadena, California, in protest of Gov. Evan Mecham's having canceled Arizona's state holiday to honor Martin Luther King Jr.
Rihanna's return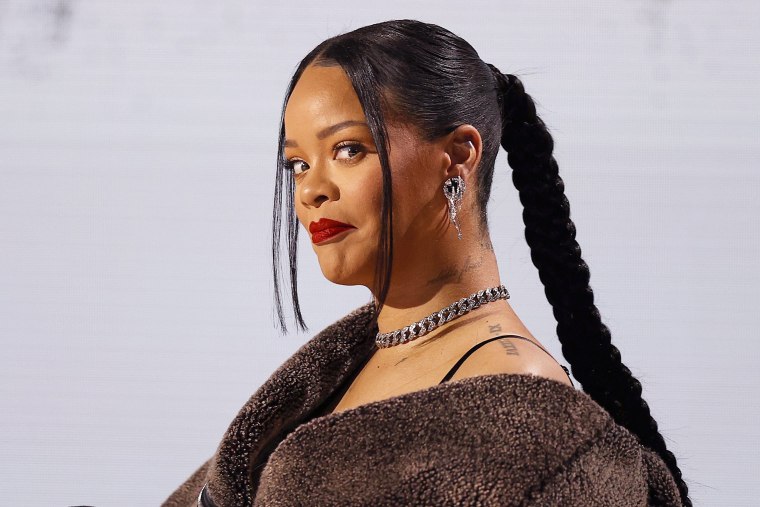 Rihanna during a Super Bowl pregame event Thursday in Phoenix.Mike Lawrie / Getty Images
While nine-time Grammy winner Rihanna debuted two songs in last year (both for the film "Black Panther: Wakanda Forever"), she hasn't dropped a new album since "Anti" in 2016. In 2019, she reportedly declined to perform in the halftime show out of solidarity with Colin Kaepernick. The halftime show marks RiRi's first performance in years, further fueling fan speculation that new music is on the horizon.
So what can we expect from the halftime show? Your guess is as good as ours.
Traditionally, halftime artists bring out guests. That means some of Rihanna's collaborators, like Calvin Harris (who has two extremely popular songs with her, "We Found Love" and "This is What You Came For)" or Jay-Z (who is on arguably Rihanna's biggest early hit, "Umbrella," as well as "Run This Town") could be on deck ready to perform with her.
Of course, even if she had no guests, Rihanna will shine bright like a diamond. After all, she has not one, not two but a whopping 14 No. 1 songs on the Billboard Hot 100.
At a media preview Thursday, Rihanna said: "The Super Bowl is one of the biggest stages of the world. As scary as that was, because I hadn't been on stage in seven years, there's something exhilarating about the challenge of it all."
Please don't stop the music, am I right?
Who is performing besides Rihanna?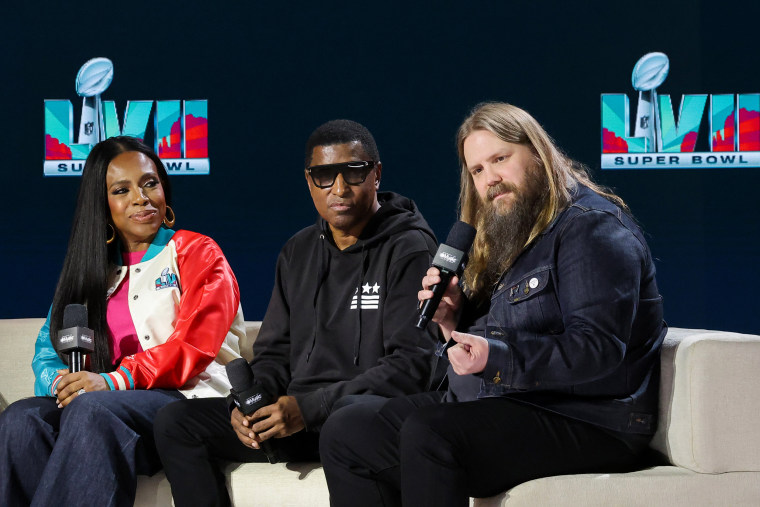 Sheryl Lee Ralph, Babyface and Chris Stapleton at a Super Bowl event in Phoenix on Thursday.Mike Coppola / Getty Images
Chris Stapleton will sing the national anthem. Oscar winner Troy Kotsur will perform the national anthem in American Sign Language.
Babyface will perform "America the Beautiful." Colin Denny will sign it.
"Abbott Elementary" star Sheryl Lee Ralph will perform "Lift Every Voice and Sing." Deaf performer Justina Miles will sign "Lift Every Voice and Sing," as well as give the ASL rendition of Rihanna's halftime show.
Yes, chef: Easy-to-make Super Bowl recipes

It's not too late to cook up some great food for your Super Bowl parties.
We're loving Today.com's extensive go-to recipes for game day snacks, including: buffalo chicken spring rolls and pizza rolls, caramelized onion dip with potato chips, chili cheese tater tot nachos and of course wings (and lots of them!). Today.com also rounded up 37 healthy Super Bowl recipes here.
My mouth is watering.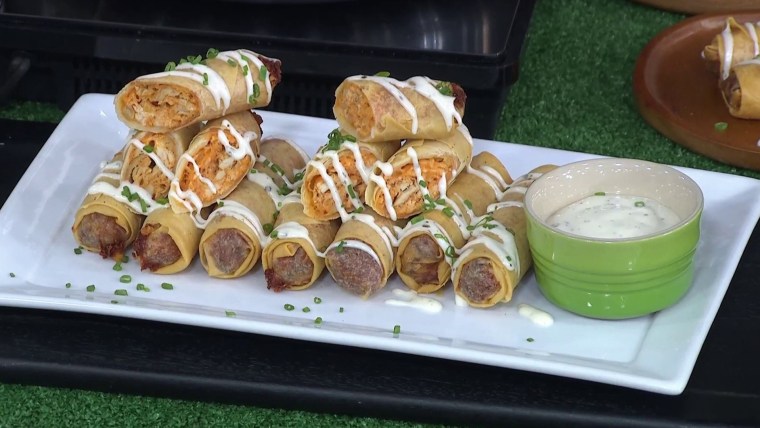 Where and when to watch the Super Bowl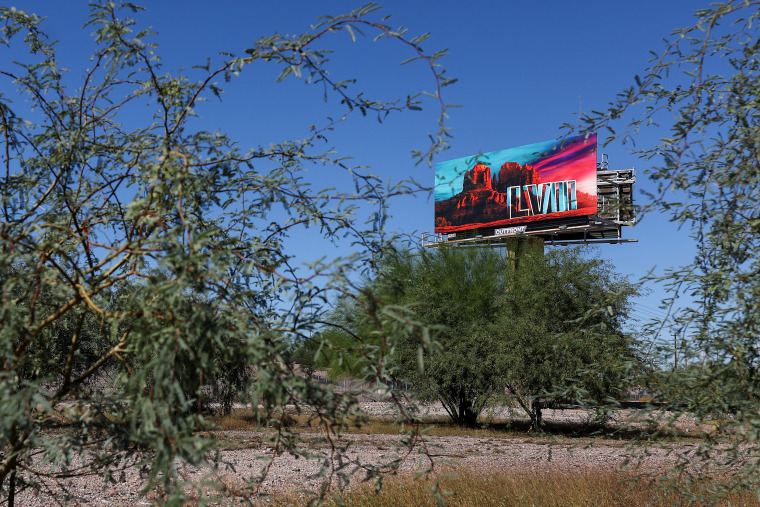 A billboard advertising the Super Bowl in Phoenix on Oct. 17.Christian Petersen / Getty Images file
The 57th Super Bowl (LVII) will air on Fox at 6:30 p.m. ET/3:30 p.m. PT.
If you are a cord-cutter, you can stream it on the Fox Sports app, the Fox Sports website and Fubo.
Don't want to watch but still curious about what's going on? Follow along with NBC News as we live blog updates.