Video capturing some of the final moments in the life of Irvo Otieno — whose death led to murder charges against seven Virginia sheriff's deputies and three hospital workers — shows officers and medical staff appearing to pile on top of Otieno, 28, a Black man, before he eventually stops moving.
The surveillance video of the March 6 incident at Virginia's Central State Hospital shows officers dragging Otieno, who appears to be handcuffed and shackled at the ankles, into an admissions room, initially moving him toward a table before they lay him down and restrain him on the ground.
At one point, as many as 10 sheriff's deputies and medical staff members at the hospital crowd around Otieno on the floor as several others stand nearby. The scene is so crowded that Otieno can hardly be seen at that point, and it is unclear what exactly is happening or how deputies and medical workers are engaging with him.
The Washington Post earlier Tuesday published nine minutes of the video, which was edited from the first 27 minutes of security video. NBC News later obtained the video, which has no sound.
The video appears to show Otieno at first being leaned against a chair, but people pile on him at 4:28 p.m.
At 4:40 p.m. — 12 minutes later — Otieno appears to be unresponsive. He is rolled on his side and then his back, and chest compressions begin at 4:42 p.m., according to the video. A defibrillator machine also appears to have been used. A medical technician drapes a white sheet over him at around 5:48 p.m.
Murder charges
A Virginia prosecutor last week charged seven Henrico County sheriff's deputies and three staff members at the hospital with second-degree murder. A grand jury indicted them Tuesday.
The deputies are Randy Joseph Boyer, Dwayne Alan Bramble, Jermaine Lavar Branch, Bradley Thomas Disse, Tabitha Renee Levere, Brandon Edwards Rodgers and Kaiyell Dajour Sanders.
The Central State Hospital employees are Darian Malique Blackwell, Wavie Lavon Jones and Sadarius Devon Williams.
Irvo Otieno, right, with his mother and brother in an undated photo. Ben Crump Law / AFP – Getty Images
It is unclear what was said during the encounter because the video has no audio. Prosecutors have said state police investigators were told Otieno had become combative during admission.
Attorneys for two of the defendants had sought to block the release of the video, arguing it could influence the pool of potential jurors and interfere with a fair trial.
After Otieno's family and their attorneys were shown video of the encounter last week, Caroline Ouko said her son was "treated like a dog, worse than a dog."
Ouko said Tuesday after the grand jury issued its indictments, "These nine men and one woman murdered my son." She said she was glad the public got a chance to see the video.
Mark Krudys, an attorney for Otieno's family, said Otieno was handcuffed and in leg restraints and that others should have intervened.
"If you look at that video, as they double down with the pressure they apply, he is gasping for breath," Krudys said at a news conference Tuesday. "There is a right of every human being to be free to breathe. He was just trying to breathe — that's all he was trying to do."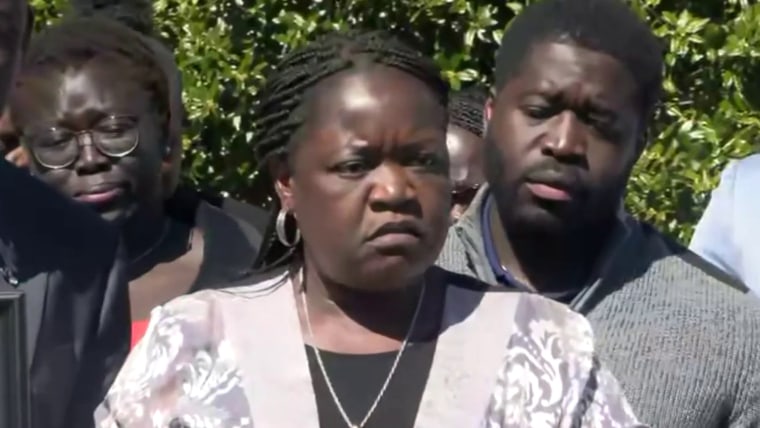 Four of the deputies weighed at least 250 pounds, the heaviest weighing 320 pounds, according to court documents.
An attorney for Levere was not listed online. An attorney for Williams said in a statement Tuesday that he is innocent.
Williams, 27, of North Dinwiddie, "did not commit second-degree murder, as the Commonwealth alleges," the attorney, Rhonda Quagliana, said in the statement. "There will be no evidence that Mr. Williams acted with malice, or that he in any way intended or caused Mr. Otieno's death. Mr. Williams had only minimal physical contact with Mr. Otieno and did not apply any lethal force during the incident. Mr. Williams looks forward to his day in court when he will be able to fully address the charge against him."
Doug Ramseur, an attorney for Jones, asked a judge Tuesday for a gag order, which was denied.
"I think everyone wants to make sure that this case gets tried fairly for all sides," Ramseur told reporters Tuesday.
Attorneys listed for the rest of the defendants did not immediately respond to requests for comment.
Disse's attorney, Edward K. Nickel, has said Disse was looking forward to defending himself.
Branch's attorney Cary Bowen has previously said that Branch has been with the department for 24 years and that "none of them are known as bullies."
'Smothered to death'
The prosecutor's office has said deputies took Otieno to the hospital at 3:58 p.m. to be admitted. Instead, "he died of asphyxia due to being smothered to death, thanks to having at least seven people, including the defendant, on top of him and holding him down," Commonwealth's Attorney Ann Cabell Baskervill said at a court hearing Wednesday, according to courtroom video broadcast by NBC affiliate WWBT of Richmond.
Otieno had initially been arrested March 3 after Henrico County police officers responded to a possible burglary call, the police department has said.
Officers placed Otieno under an "emergency custody order," the department said. Virginia law says such orders are used in cases of mental illness.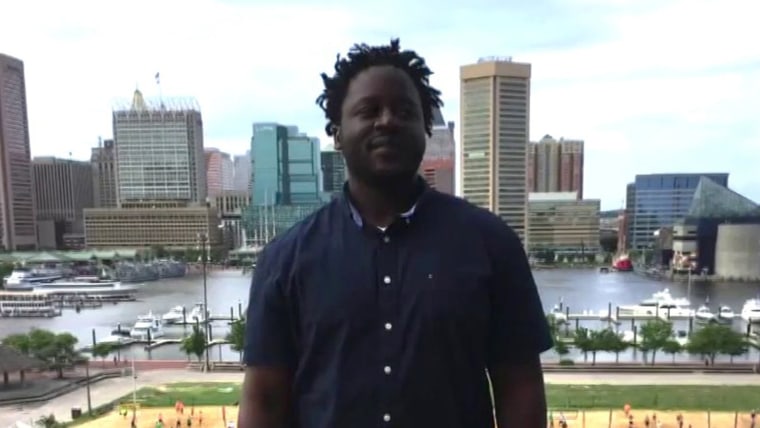 Officers then took Otieno to Parham Doctors' Hospital, where a crisis receiving center was located, and the police department said he "became physically assaultive towards officers." He was taken to a jail managed by the Henrico County Sheriff's Office, where he was served with several charges, including three counts of assault on a law enforcement officer, disorderly conduct in a hospital and vandalism.
Previous incident ruled 'mental health problem'
The police department said officers had also responded to another incident the day before, on March 2, for a "reported suspicious situation" in which the complainant said he was concerned about his neighbor's behavior. The neighbor was identified as Otieno, police said. The call was reclassified as a "mental health problem," and no charges were filed, it said.
State police were called to investigate Otieno's death around 7:30 p.m. March 6, days after the initial arrest.
The Henrico County Sheriff's Office did not immediately respond to a request for comment.
Sheriff Alisa Gregory said in a statement that the office was "cooperating fully with the investigation of the Virginia State Police."
"Separately, we are conducting our own independent review of this incident," the statement said.
Otieno's family, which has roots in Kenya, has said he was a selfless person who cared about fairness. He was also a hip-hop artist who could write songs in five minutes, his relatives said.
Leon Ochieng, his brother, described his death as a "tragic, senseless, inhumane nightmare."
"Can someone explain to me why my brother is not here right now? Someone explain to me why my mother can't sleep, can't eat," he said. "We are broken. Our hearts are broken."