By James Sutherland on SwimSwam
2023 NCAA DIVISION I MEN'S SWIMMING & DIVING CHAMPIONSHIPS
March 22-25, 2023
Jean K. Freeman Aquatic Center | Minneapolis, MN
SCY (25 yards)
Meet Central
Psych Sheets
SwimSwam Preview Index
SwimSwam Pick 'em Contest
Live Results
Four heavy hitters will face off in the 100 butterfly on Day 3 of the Men's NCAA Championships in Minneapolis, as star sprinters Jordan Crooks and Josh Liendo converge with defending champion Andrei Minakov and the fastest man in the country this season, Youssef Ramadan.
Since Caeleb Dressel's graduation in 2018, only three swimmers have gone under 44 seconds in the 100 fly (in college competition): Minakov, Ramadan, and Luca Urlando, who is out of the meet due to injury.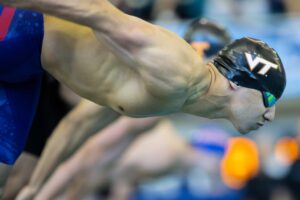 Minakov, the 2019 LC World Championship silver medalist in the event, won last year's title in a time of 43.71, edging out Urlando (43.80) and Ramadan (43.90).
This season, Ramadan leads the NCAA rankings with his time of 43.93 from the ACC Championships, while Crooks' time of 44.04 from SECs ranks second. However, that swim came in the prelims, as Liendo upended him in the final, 44.11 to 44.37.
Minakov only joined Stanford midway through the season, but still came away with the Pac-12 title in 44.51 (44.34 in prelims).
2022-23 NCAA Rankings
Youssef Ramadan (VA Tech), 43.93 – 2023 ACC Championships
Jordan Crooks (Tennessee), 44.04 – 2023 SEC Championships
Josh Liendo (Florida), 44.11 – 2023 SEC Championships
Andrei Minakov (Stanford), 44.34 – 2023 Pac-12 Championships
Gal Cohen Groumi (Michigan) / Luke Miller (NC State), 44.50 – 2023 Big Ten Championships / UNC Last Chance Meet
Minakov and Ramadan would be regarded as butterfly specialists who are also competitive in the 50/100 free events, while the opposite could be said about Crooks, who will have all eyes on him in the sprint free events and this is very much his third-best event, though he's still in the race for the title.
Liendo, a freshman at Florida, could maybe be regarded as the only one of the three who really focuses in on all three events equally, and the way he ran down Crooks at SECs, along with his international resume in this event (2022 LC Worlds bronze, 2022 Commonwealth gold), make it hard not to lean his way.
Out of the four, Crooks has shown a vulnerability on the last 25 the others haven't, and when there isn't much between them, that gives enough reason to rank him fourth.
OTHER RETURNING FINALISTS
Urlando and Louisville's Nicolas Albiero are the only two members of last year's final who won't be in the field this week, as fourth-place finisher Nyls Korstanje comes in with the quickest time among the bunch after clocking 44.17 in the 2022 final.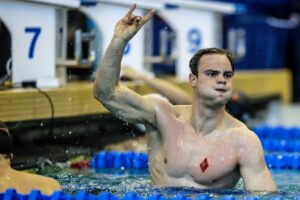 Korstanje comes in seeded ninth this year at 44.70, a time he produced at ACCs which is faster what he went at the conference meet last year before his impressive NCAA performance—a good omen.
Like Korstanje, Indiana's Tomer Frankel was faster at Big Tens last month (44.66) compared to his showing from one year ago (44.81), indicating we should see him down in the 44-low-to-mid range after having set a PB of 44.38 in last year's heats before finishing fifth in the final.
NC State's Aiden Hayes set a 17-18 NAG record in his freshman year to make the final and ultimately place seventh, and enters the meet with some momentum after hitting a best of 44.66 to out-touch Korstanje and place second at ACCs.
Reigning Ivy League champ Umitcan Gures, eighth last year, was essentially right on where he was last season in February (44.89 to 44.91), putting him in a good spot to challenge for another berth in the final.
Among last year's 'B' finalists, Michigan sophomore Gal Cohen Groumi leads the charge this year after he put up a lifetime best of 44.50 to win the Big Ten title over Frankel.
Another Big Ten swimmer to watch for is Indiana's Brendan Burns, who has once again opted for the 100 fly/100 back double on Day 3 in order to put all of his focus towards defending the 200 fly title on Saturday. Burns didn't swim this event at Big Tens, and finds himself well down on the psych sheets with a 45.81 seed, but will be dangerous as he won the consolation final last year in 44.54 with an impressive back half.
OSU sophomore Alex Quach and Cal junior Dare Rose will also be in the mix after making the top 16 last year.
OTHERS TO WATCH FOR
The NC State duo of Kacper Stokowski (44.68) and Arsenio Bustos (44.97) have both set personal bests over the last month and will be looking to make an impact for the Pack in this race, though both will be primarily focused on other events. Their teammate Luke Miller won't even swim the 100 fly despite blasting a 44.50 at the UNC Last Chance Meet in early March.
There are a number of men in the 45-low range just behind Stokowski and Bustos on the psych sheets who will be in the fight to earn a second swim, led by ASU's Max McCusker (45.01), Stanford's Aaron Sequeira (45.01) and Mizzou's Clement Secchi (45.08).
SWIMSWAM'S PICKS
Rank
Swimmer
School
Season Best
Lifetime Best
1
Josh Liendo
Florida
44.11
44.11
2
Youssef Ramadan
Virginia Tech
43.93
43.90
3
Andrei Minakov
Stanford
44.34
43.71
4
Jordan Crooks
Tennessee
44.04
44.04
5
Nyls Korstanje
NC State
44.70
44.17
6
Gal Cohen Groumi
Michigan
44.50
44.50
7
Aiden Hayes
NC State
44.66
44.66
8
Tomer Frankel
Indiana
44.66
44.38
Dark Horse: Cody Bybee, Arizona State – ASU's Bybee has gone three years without getting under his 100 fly best time of 45.19 from the 2020 Pac-12s, but has been inching closer and closer and despite failing to earn a second swim last year at NCAAs, did drop a 44.80 relay split and will be aiming to close out his collegiate career with a bang.
Read the full story on SwimSwam: 2023 M. NCAA Previews: Four-Way Battle On Tap In 100 Fly