2023 NCAA DIVISION I MEN'S SWIMMING & DIVING CHAMPIONSHIPS
We're running out of ways to talk about how fast Leon Marchand is. He's been absolutely dominant and has shown off his versatility, holding the top time in the NCAA in eight different events throughout the season.
The 400 IM is the one individual event he did not win at NCAAs last year: he finished second behind Hugo Gonzalez' NCAA-record-breaking title effort. However, this season, it's been a different story. He put the nation on notice at ASU's January dual meet versus Cal, when he rocketed to 3:31.84–a new NCAA record. A month and a half later at PAC-12s, he lowered the record again; this time posting 3:31.57.
Oh yeah, Marchand also won the Long Course World Championship title last summer with the second-fastest swim ever of 4:04.28, putting a scare into Michael Phelps' world record set back in 2008.
So far this season, Marchand has taken over a second off Gonzalez's previous NCAA record. He was in his own world at PAC-12s, dropping the hammer in the fly leg and winning the race by over six seconds. Now, with NCAAs and a full taper looming, the question becomes how low can he bring the record?
If you've paid any attention to Coleman Hodges on the SwimSwam Breakdown or his race analysis videos over the last two months, you know that he thinks sub-3:30 is in the cards. Just typing "sub-3:30" feels silly, but one thing we've learned over the last year is that it's even sillier to underestimate Marchand.
LEON MARCHAND, 2023 PAC-12 CHAMPIONSHIPS (CURRENT US OPEN AND NCAA RECORD)
LEON MARCHAND, 2023 ASU VS. CAL DUAL MEET (FORMER US OPEN AND NCAA RECORD)
Fly
48.20
48.75
Back
54.19
53.68
Breast
59.08
59.30
Free
50.10
50.11
Total
3:31.57
3:31.88
He was remarkably consistent in his splits across his NCAA record-breaking efforts. If he swims the same backstroke split he did in his January swim at PAC-12s, the record comes down to 3:31.06. If you also think he's going under 3:30, let us know where you think the rest of the time comes from.
Potential Upsets
Is there anyone in the field who can upset Marchand? Realistically, Gonzalez and Carson Foster are the only two capable of such a feat.
Gonzalez returned to Cal at the start of the spring semester to use up the last of his NCAA eligibility. He got out to a slow start, and was actually in the pool when Marchand broke his record–though he was way back in 3:57.92. Things have improved majorly for Gonzalez since then. At PAC-12s, he finished second to Marchand in 3:37.65. That's over a 20-second drop for a new season best time, showing that Gonzalez has spent the semester rounding back into form.
Obviously, any drop he makes from PAC-12s to NCAAs won't be as dramatic, but as he continues training with the Golden Bears it seems likely that he'll continue to get closer to his personal best 3:32.88. His teammate Jason Louser is actually seeded just ahead of him in third. The senior, who won the 'B' final last year, clocked a best of 3:37.60 in PAC-12 prelims before adding in finals. If he can grab a spot in the championship heat that will be huge for the Bears' title defense, as he'd replace the points Sean Grieshop earned along with Gonzalez in the 'A' final.
Foster arrives in Minneapolis as a different swimmer than he was a year ago. In the year since the last NCAA Championships, he's definitively shaken the monkey off his back, not only making the LC Worlds team but earning two individual silver medals in the medley events along with a relay gold. In December at SC Worlds he earned eight medals: three gold, three silver, and two bronze.
The Texas junior is the second seed with the 3:35.49 he swam at Big-12s. He's been as fast as 3:33.79, which he went in prelims of NCAAs last year before adding time in finals and finishing third. It doesn't seem like Foster will make that mistake again. He'll need a near-perfect swim to beat Marchand but he could get it done. Last summer made it clear that Marchand and Foster's rivalry in the pool (both long and short) isn't going anywhere and this meet should be another exciting entry.
Freshmen Frenzy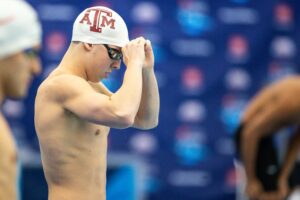 There's a trio of freshmen looking to get in on the action, led by Baylor Nelson, our #1 boys' recruit in the high school class of 2022. Now almost through his first year at Texas A&M, he has lived up to the hype. He swept the IMs at SECs, with lifetime bests of 1:40.86 and 3:38.14. The Texas A&M men have bounced back from a disappointing 2021-22 season in a big way, powered by their deep IM group (we'll get to the rest in a bit). With all of them, Nelson included, the question is how much they've left in the tank for NCAAs. If the answer is "a lot" then Nelson could make things very interesting.
Hubert Kos was one of two spring semester additions for the Sun Devils that brought even more depth to the program. At PAC-12s, he scored 38 points across two 'A' and one 'B' finals, helping ASU earn their first conference title. He earned third in the 400 IM with a lifetime best of 3:37.68. That was a six-second drop from his entry time, showing that he still hasn't reached his ceiling in yards. He's had to make a quick adjustment from meters to yards by joining ASU in the middle of the season, and now he's seeded fifth heading into NCAAs. If the top tier of Marchand, Foster, and Gonzalez are all on their game his ceiling in the event is probably fourth but that's still a big achievement, especially given that he hasn't been in Tempe for a full season yet.
Kos isn't the only Hungarian freshman aiming to join the party in the 400 IM 'A' final. Wisconsin's Dominik Mark Torok announced himself at Big Tens, winning the event in a lifetime best 3:39.96. Over the course of the meet, he knocked 8.63 seconds off his personal best–which he'd just set at a February dual meet. The time vaulted him up the NCAA standings and makes him the 10th seed heading into the meet. It took 3:39.62 to make the 'A' final last year, so Torok likely will need another drop to make the big heat. But as long as he didn't show all his cards at Big Tens, that certainly seems possible.
Fighting For the 'A' Final
Marchand's insanity makes him the clear favorite, but behind him, Foster, and Gonzalez, it's shaping up to be a battle just to make the 'A' final. There are seven men seeded within 1.5 seconds of each other–the seventh through fourteenth seeds. That means there's going to be a scramble in the morning for the 'A' final. Additionally, only three 2022 'A' finalists graduated, so we could potentially see a big-name miss out.
The two returning 'A' finalists we haven't touched on yet are a pair of Longhorns: Jake Foster and David Johnston. The older Foster brother was fifth last year in 3:38.24, though his fastest time is 3:37.33 from the prelims. This is (very likely) his last NCAA meet, as he's gotten into medical school. Given that, there's a sense of "nothing left to lose" for him and we could see him throw down a new personal best. The trick is that it will have to come in finals to end up as high on the podium as he can get.
A junior, Johnston has been having a solid year. Most of the highlights have come from getting to swim at his first major senior international meet: SC Worlds. That trip meant that like his other teammates attending, he wasn't fully tapered for midseason and he also left the Minnesota Invite early. Thus, we haven't really seen him at all rested in yards this season. We're going to have to wait to see what the rest will do for his 400 IM but currently, he's seeded eighth in 3:39.36, less than a second off his lifetime best 3:38.90.
Senior Anze Fers Erzen adds a lot to both Texas A&M's IM depth and their potential in this event. The Slovenian dropped a lifetime best 3:39.05 at the Art Adamson Invite, which is good enough for the seventh seed. He was off that mark at SECs, posting 3:40.10. to take second behind his teammate Nelson. However, his focus could just have been on this meet, not SECs. As we mentioned with Nelson, we'll see how much the Aggies have left in the tank; it's likely going to take under 3:40 to make it back for the 'A' final. That puts Fers Erzen right in the middle of a fight with not only Johnston, Foster, and Torok but also swimmers like David Schlicht, Mason Laur, and Ian Grum.
That trio of Schlicht, Laur, and Grum are hanging out at 11th through 13th on the psych sheet, separated by just .29 seconds. Laur is the only one of the three who's swum a lifetime best this season (3:40.18) but neither Schlicht or Grum are that far off theirs. With a good prelims swim, any of the three is capable of getting into the championship heat. For Schlicht and Laur, who swim for ASU and Florida, that would be big from a team standings perspective, especially if the swimmer they bump out is from Cal or Texas.
SwimSwam Picks
Dark Horse: Jack Hoagland (Notre Dame) — After taking last season off due to injury, Jack Hoagland is back in the pool for the new-look Fighting Irish. As a whole, Notre Dame looked strong at ACCs, Hoagland included. The senior posted a season best 3:41.15 to win the conference title which is near his lifetime best 3:40.73. That time puts him just on the outside of scoring at 17th on the psych sheet. The 'A' final is probably a stretch, but if he hits his taper and continues to round into his 2021 self, he could get back into the 'B' final (he finished 11th in 2021).