2023 NCAA DIVISION I MEN'S SWIMMING & DIVING CHAMPIONSHIPS
MEN'S 200 BREASTSTROKE
The NCAA Record Holder & The Hometown Favorite
Let's not play coy–Leon Marchand is the big favorite here. The Sun Devil sophomore capped off an outstanding PAC-12s by taking down Will Licon's 1:47.91 NCAA and U.S. Open records from 2017 with a blazing 1:47.67. Marchand led that race wire-to-wire, but where he made his move on Licon's record was on the second 100, where he split 55.96 compared to Licon's 56.49.
Not only did he already break the NCAA record, but he's also the only swimmer to go under 1:50 this season. Florida freshman Aleksas Savickas owns the second-fastest time of the season at 1:50.08, a full 2.41 seconds behind Marchand.
And oh yeah, Marchand's also the defending NCAA champion. Last year, he won the event in 1:48.20, ahead of Max McHugh who posted a lifetime best of 1:48.76.
If anyone's going to beat Marchand, McHugh is the most likely candidate. He's the 2021 champion and was the runner-up in 2019 and 2022. It's his last NCAA meet, the 200 breast is on the last day, and it's his home pool. If you wanted to write a storybook ending, McHugh upsetting Marchand for the win in his last collegiate race in front of a home crowd would be it. It's a tall order, but that's part of what makes it a compelling story.
McHugh has the third-fastest personal best in the field, but even that's a second slower than Marchand has already been this year. The fifth-year Gopher held his cards close to his chest at Big Tens–there was no reason for him to do anything else–and earned the 200 breast conference title by over a second ahead of Josh Matheny. It's that 1:50.20 that has McHugh seeded third heading into the meet. He went 1:50.31 in prelims last year, so expect him to be similarly controlled in the heats this year before giving it all he's got to try and out-touch the new NCAA record holder.
SEC Rising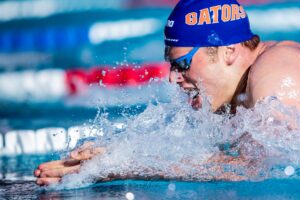 Last year, the SEC had just two representatives in the 200 breast finals: Florida's Dillon Hillis and Texas A&M's Andres Puente Bustamante, who finished 14th and 15th. The hasn't been an SEC swimmer in the 'A' final the last two years. This year, there are five men from the conference seeded to score: Savickas, Hillis, Puente Bustamante, Alex Sanchez, and Lyubomir Epitropov.
Savickas and Hillis went 1-2 at SECs, with the freshman earning the win in 1:50.08, breaking Nic Fink's eight-year-old SEC record. That swim puts Savickas in a strong position heading into NCAAs; he's #2 on the psych sheet and on the cusp of breaking 1:50 for the first time. If he can break 1:50, that puts him in an excellent position as going under that barrier earned top 4 last year.
As we mentioned, Hillis swam in the 'B' final last year and now aims for the 'A'. The fifth-year swam a lifetime best 1:51.14 at SECs. 1:51.14 would have made the 'A' final last year, which is a good sign for Hillis as he looks to end his NCAA career on a high.
They aren't the only training partners hoping to score big points at NCAAs. The Aggies have rallied after a disappointing 2021-22 season and Andres Puente Bustamante and Alex Sanchez have played an important part in that. Puente Bustamante was one of three Aggies to score individually at NCAAs last year while Sanchez didn't swim at the meet.
Both swam lifetime bests at the Art Adamson Invite–Puente Bustamante clocked 1:51.14, while Sanchez turned heads with a 1:51.09, crushing his previous best time of 1:53.36. At the time, that swim was the fastest in the NCAA. Puente Bustamante finished fourth at SECs and Sanchez added to finish eighth in 1:54.92. They're eighth and ninth on the psych sheet, so provided that they get back into midseason form both should be able to secure a second swim.
Tennessee's Lyubomir Epitropov finished 16th in 2021 then fell to 35th in 2022. Another fifth-year, he's eyeing another trip to the finals. Right now, he's positioned to do just that as he's twelfth on the psych sheet in a lifetime best 1:51.83.
Familiar Contenders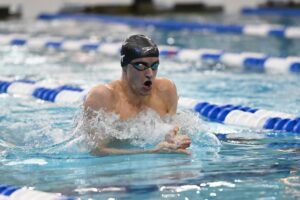 Along with Marchand and McHugh, three 2022 'A' finalists return to race in Minnesota: Carles Coll Marti, Caspar Corbeau, and Reece Whitley. Coll Marti has often flown under the radar, but he's been great his entire career for the Hokies. Last year, he had a breakthrough in this event, dropping about two seconds and dipping under 1:50 for the first time with a PB of 1:49.69. That time earned him fourth at 2022 NCAAs.
This year, Coll Marti finished second at ACCs with a season-best of 1:50.90.While he hasn't hit his best time this season, the fact that he's been under 1:50 before gives him an edge over the other 'A' final hopefuls.
The person he finished second to at ACCs was Louisville's Denis Petrashov. The Cardinal senior cut more than a second off his best to win in Greensboro, dropping from 1:51.89 to 1:50.51. That's launched him up the standings and into 'A' final contention after getting 24th last year. The key for him will be to keep the gains he's made and not add time.
Now in his fifth year at Cal, Whitley has finished second (2021), fifth (2019), and seventh (2022) in this race at NCAAs. His best time of 1:48.53 is from the Cal/Stanford dual. That time should put him right in the mix with McHugh, but it's from the Cal/Stanford dual in the fall of 2020. He got two-tenths from it at that season's PAC-12s, but hasn't been under 1:49 since. Historically, he's added time in this event from PAC-12s to NCAAs. He's sitting seventh on the psych sheet with a season-best of 1:51.02, so while it's a safe bet for him to be in the 'A' final, he's got a lot of ground to make up to contend with the favorites.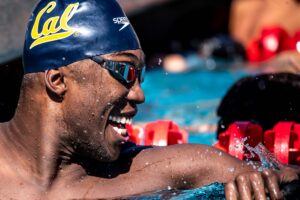 The Golden Bears also have Jason Louser seeded to make the 'A' final, coming in with the 1:50.99 personal best he swam at PAC-12s. Louser's made some quality drops across his events in his senior season, and now he sets his sights on jumping from 13th place into the 'A' final.
Corbeau earned sixth last year, adding a couple tenths from the personal best 1:50.51 he swam in prelims. He and fellow senior Jake Foster form a solid duo for the Longhorns in this event. In their ideal world, both make the championship heat but for the last two years, Corbeau has been Texas' only representative in the 'A' final, with Foster (and, in 2021 Braden Vines) in the 'B' final.
Corbeau and Foster are #13th and #16th on the psych sheet, with season bests of 1:51.92 and 1:52.08. However, since neither really tapered much at all for midseason as they were heading to SC Worlds and wouldn't have tapered for Big 12s, you could argue that they are both in line to drop more at NCAAs than some of the others in the race. Still, the field is crowded enough that it'll be a challenge for them to both land in the 'A' final.
SWIMSWAM PICKS
Dark Horse: Josh Matheny (Indiana) — After a strong showing at Big Tens, Matheny had a disappointing NCAAs his freshman year. Then, he rebounded over the summer, winning the U.S. national championship in the 100 breast and breaking 1:00 for the first time. He's 11th on the psych sheet in 1:51.23, off his lifetime best from 2022 Big Tens of 1:50.65. If he gets back to 1:50-mid form, he should be in the middle of the action in the 'A' final.