2023 NCAA DIVISION I MEN'S SWIMMING & DIVING CHAMPIONSHIPS
At the 2023 NCAA Championships, Max McHugh has a chance to pull off something that not many swimmers have done: win a national title and break the NCAA record in his final collegiate meet, at his home pool.
McHugh is the two-time defending NCAA champion in the men's 100 breast, having won at the 2021 and 2022 NCAA Championships by over half a second. Last year, he became the second swimmer to ever get under the 50-second barrier in this event, clocking a 49.90 to be within 0.25 seconds of Ian Finnerty's NCAA record. If he retains the same dominance that he's had over the last two years, the record that he's come closer and closer to every season could be his. But at this specific NCAA meet, what are the chances of that happening?
For starters, it's important to note that McHugh is not the top seed in the 100 breast, like he was in 2021 and 2022. He comes in with a season-best of 50.80, which is 0.07 seconds slower than Aleksas Savickas's top-seeded time, and also the slowest he's been prior to NCAAs since his freshman season. Now with the exception of his junior season, McHugh is pretty good at dropping from his seed time, having improved over half a second in both 2019 and 2022. Given this fact, we're confident that he can drop this year and win the title handily, but he's going to have to drop more than he's ever done in the past in order to have a shot at Finnerty's record.
Max McHugh's 100 Breast Seed Time vs. NCAAs Time:
2018-19 (Freshman Year)
2020-21 (Junior Year)
2021-22 (Senior Year)
Seed Time
51.08
50.19
50.58
NCAAs Time
50.30
50.18
49.90
For one to end their college career as the fastest ever in the same pool that they practice at every day would be a full-circle moment that's almost never been witnessed before, but if there's anyone who can do it, it's McHugh.
Upset Central?
Now if McHugh ends up having an 'off' meet, who are the top contenders to upset him?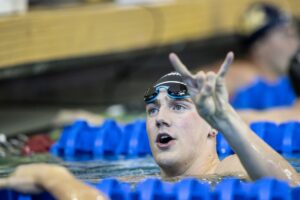 Of course, we need to talk about the top seed, Lithuanian swimmer Aleksas Savickas. The Florida freshman came out of nowhere this season, entering with a converted best time of 53.30 (his pre-college SCM best was 59.27), and improving to 50.73 clocking in the prelims of the SEC Championships. With freshmen, and especially out-of-nowhere-first-time-yards-swimmer freshmen, comes the question of whether they will be able to perform their best at the right time. In the past, we've seen many NCAA newcomers go all-out at their conference meet or swim their best time in prelims and not be able to replicate it in finals. In fact, Savickas actually didn't win the 100 breast SEC title—he added time in finals, swimming 51.07 to lose to his teammate Dillon Hillis. If Savickas can prove us wrong and push past the double-taper hurdles, he can certainly do something special here, but it's too early to say for now.
Hillis also swam his season-best at SEC prelims, clocking a best time of 50.90 to come in as the fifth seed. That time is faster than the 51.24 he swam at NCAAs last year to finish sixth, which bodes well for this year. Back in 2021, Hillis finished second to McHugh with 50.96, but he's going to need to be a lot faster this year in order to replicate that finish.
The swimmer with the second-fastest best time in this field is Texas's Caspar Corbeau. Last year, he finished second to McHugh in a time of 50.49, which made him the sixth-fastest performer of all time. This season, Corbeau comes in with a season-best of 51.30 from a dual meet and is "only" seeded 10th, and he also lost by 0.05 to Will Chan at Big 12s. However, it's important to note that Corbeau has never really had a chance to swim the 100 breast seriously—he wasn't at midseasons in order to prepare for short course worlds, and Texas never goes all-out for Big 12s. The Longhorns almost always pull up to swim their fastest at NCAAs, so we're certain that Corbeau can drop a lot from a dual meet season-best.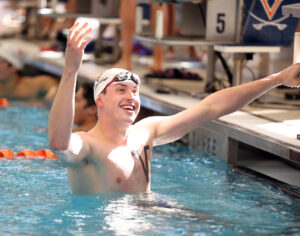 Finishing 0.01 of a second behind Corbeau last year was Cal's Liam Bell, who placed third in 50.50. This year, he secured his NCAA qualification by clocking 51.58 at Pac-12s, a time that is seeded down in 18th. Last year, Bell made a massive drop to go from 52.01 at Pac-12s to 50.50 at NCAAs, so he shouldn't be counted out despite his low seeding. That being said, the fastest Cal swimmer this season was Reece Whitley, who comes in as the sixth seed with his Pac-12s winning time of 51.12. Last year, he finished fourth overall in the 100 breast final with a personal best of 50.84.
Perhaps the most intriguing top contender in this final is Virginia's Noah Nichols, who swam 50.82 at ACCs to become the new ACC record holder. Nichols broke out as a freshman, dropping from a high school best of 53.77 to go 51.36 at 2021 ACCs. He failed to break 52 seconds in his sophomore year, but had a major bounce-back as a junior to become the top seed heading into NCAAs. The Virginia men usually don't show their cards until NCAAs, and given that Nichols improved from ACCs to NCAAs last year, we could be in for a big swim from him.
Other Contenders
Let's also take some time to talk about the other contenders that you might not think will be at the top, but could surprise us. One of those swimmers is Auburn's Reid Mikuta, who comes in as the sixth seed with a time of 51.14. He set that time back at midseason invites, which is an improvement from the 51.32 he swam at NCAAs last year to finish 9th overall. Just an improvement of a few tenths could be enough to put him in the top eight this time around.
Another man to watch out for is Towson's Brian Benzing, who is the seventh seed and finish 13th at NCAAs last year. He set a personal best of 51.23 at the CAA championships, but what he's better known for is his 22.54 50 breast split, which ranks as the second-fastest of all-time behind McHugh's 22.40. That 50 breast split leaves us wondering whether he could produce a 100 breast time of equal caliber, which means potentially getting into the 50-mid or low range.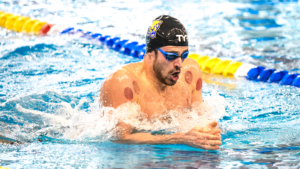 Louisville's Denis Petrashov and Pitt's Cooper Van Der Laan tie as the eighth seed with times of 51.26. Both swimmers set massive personal bests headed into NCAAs, with Petrashov jumping from 51.92 at the 2022 NCAAs to 51.26 at the 2023 ACCs, and Van Der Laan going from 51.46 from 2021 to 51.26 at the 2023 American Short Course champs. Given Louisville's high ACCs to NCAAs improvement rate and the NCAAs potential that Pitt has in their first season under Chase Kreitler, both Petrashov and Van Der Laan could turn heads this year.
The highly versatile Van Mathias is the 11th seed with a time of 51.32. Despite being primarily a sprint freestyler, his breaststroke has seen major developments this season, as he came into the year with a best time of 55.98 from high school. Also keep watch on Mathias's teammate Josh Matheny, who was one of the top breaststroke recruits coming into the 2021-22 season, but had a poor Big Tens to NCAAs transition and didn't score any points. This year, he's seeded 13th with a personal best of 51.50, and looks to bounce back from his freshman year.
Alabama's Derek Maas and Tennesee's Jarel Dillard finished seventh and eighth in the 'A' final last year, but as the 21st and 38th seeds with season-bests of 51.74 and 52.10, respectively, they are going to have to do a lot of climbing to get back to the top. As the man who beat Corbeau at Big 12s, Will Chan should also be considered. His season-best is 51.65, but he's been as fast as 50.95 before, which would most certainly make the 'A' final.
In a field that appears to be wide-open behind McHugh, the men's 100 breast looks to be an event that is rather unpredictable.
SwimSwam's Picks
Dark Horse: Jadon Wuilliez, TCU—Last year, Wuilliez was the first alternate for NCAAs, just missing qualification for the meet. This season, however, he dropped from 52.25 to 51.70 to come in as the 20th seed. It's sometimes difficult for surprise NCAA qualifiers to hold their seeds come time for the actual meet, but if he does, then he could be in a good position to score.