Courtesy of A3 Performance, a SwimSwam partner.
Wisconsin, USA, June 21, 2022 – A3 Performance officially releases their newest and most innovative generation of technical racing suit, PHENOM – the culmination of years of industry experience and research, breaking the mold of technical racing technology.
Training, recovery, nutrition, and racing in competitive swimming are all evolving. It's time for racing technology to evolve too, and it has with PHENOM.
Every element of PHENOM is the result of extensive testing, data collection, and analysis. PHENOM's data-driven design was developed to create the fastest surface in the water of any FINA approved technical racing suit. One of the major factors in PHENOM's surface speed is Slip Stream® Water Management Technology, the first-ever hydrophilic water treatment technology used in technical racing. The Slip Stream® hydrophilic technology reduces friction on the suit and creates a boundary layer of water around the suit. This is significantly faster when compared to the traditional hydrophobic treatment on other tech suits. Combined with vertical fabric channels across the body that controls water movement and creates body lift and efficiencies in every stroke, this suit is the fastest out there.
PHENOM is also designed with some new improvements on traditional technology. PHENOM's elite bonded seaming process controls muscle compression throughout the body without limiting joint and muscle mobility. Silicone grippers around the leg openings keep the suit in place at the highest speeds while also allowing for maximum range of motion. Not to mention, all male PHENOM jammers have A3 Performance's proprietary drawstring technology – FitLock, designed to lock your suit in place before you race.
"Our mission is to have the fastest surface in racing and we did this with PHENOM." said A3 Performance Founder and CEO Dan Meinholz of PHENOM's release. "I am very proud of our team's work. We have been developing this technology, with our partners, for over four years, so it is very rewarding and exciting to release PHENOM.  The response we have received thus far has been incredible. PHENOM is the future of racing and we are excited to lead the way."
Athletes deserve to race in a tech suit that matches their potential, and that is the driving force behind PHENOM.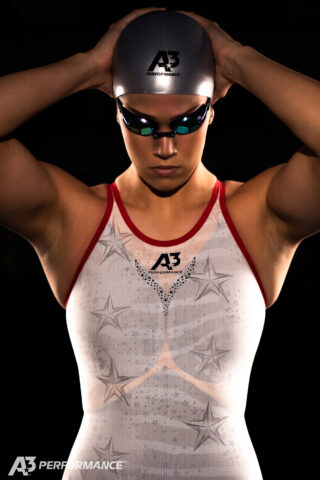 PHENOM is now available for purchase exclusively from A3 Performance at https://www.a3performance.com/phenom-technical-racing. Available in male and female sizes 20-32.
Photos courtesy of Mike Lewis.
ABOUT A3 PERFORMANCE
At A3 Performance, our mission is to Lead, Innovate, and Inspire the sport of swimming. Lead the industry of performance swimwear and apparel. Innovate products and services. Inspire all athletes to live their potential and be their best – A3 Performer.
See A3 Performance here.
Please send all questions, orders, and inquiries to [email protected]