2022 FINA WORLD AQUATICS CHAMPIONSHIPS
The prelims relay lineups for the women's and men's 4×100 free relay were just released around 30 minutes before the start of the session. For the most part, the people on each team were exactly what we expected. However, there were a few notable things that stood out.
Women's 4×100 Free Relay
Most of the podium favorites in this relay are opting to rest their top two swimmers from trials for finals. Australia is missing Mollie O'Callaghan and Shayna Jack, while the U.S. lineup doesn't include Claire Curzan or Torri Huske.
However, Kayla Sanchez, the top finisher from Canadian trials in the 100 free, is on Canada's prelims lineup alongside Taylor Ruck, Rebecca Smith and Katherine Savard. This means that Penny Oleksiak will likely be rested for finals, with the same going for Maggie MacNeil. The latter decision makes sense, considering that MacNeil is just coming off a shoulder injury and coaches probably wanted to lighten her race load.
The Chinese relay is missing Zhang Yufei and Yang Junxuan. While Yang will most likely be put on the finals relay, the status regarding Zhang for this relay is unknown. She was not put on this relay in Tokyo last year, but her omission caused controversy in China because she could have been a huge boost to the team with her 52.90 best time.
Full Prelims Lineups: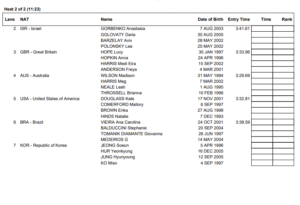 Men's 4×100 Free Relay
The most interesting thing that we noticed when looking at the men's lineups was that Drew Kibler, alongside Caeleb Dressel, were missing from the USA squad. To rest Dressel for finals would make sense, but the omission of Kibler, who tied four fourth at U.S. trials, is an interesting choice. Brooks Curry and Ryan Held, who finished second and third ahead of Kibler, are both on this prelims relay.
Australia seems to be going all in on prelims, shown by the fact that they are putting in Kyle Chalmers on their morning squad. In addition, their top finisher at trials, William Yang, is also on the prelims relay. However, second-place finisher Zac Incerti is not.
Full Prelims Lineups: