Swimming Australia has published its selection criteria for the 2023 World Championships set for July 24th – July 30th in Fukuoka, Japan.
Swimming Australia Selection Criteria for 2023 World Championships
The nation's sole qualification meet for the World Championships is the 2023 Australian Swimming Championships, slated for June 13th – 18th in Melbourne, Victoria.
A maximum of 28 male and 28 female athletes may be nominated for the Australian roster, with the first and second-placed eligible athletes in the open final of individual Olympic events gaining selection, provided they meet the stiff Aussie time standards.
After following the FINA time standards for the 2022 World Championships in Budapest, Swimming Australia appears to be reverting to its prior practices of setting its own qualification times which, in most cases, are faster than the FINA 'A' time standards.
Australia typically isn't alone in this practice, as Great Britain and Japan are both notorious for setting super quick qualification times that, in a handful of events, would require beating the national record to achieve.
As a reminder, the FINA qualifying standards for swimmers for Fukuoka were created using the fastest of two times – the qualifying 'A' time standard for Budapest 2022 and the 16th place finishing time from the prelims there.
Swimming Australia Qualification Times for 2023 World Championships
World Aquatics (formerly FINA) 'A' Cuts for 2023 World Championships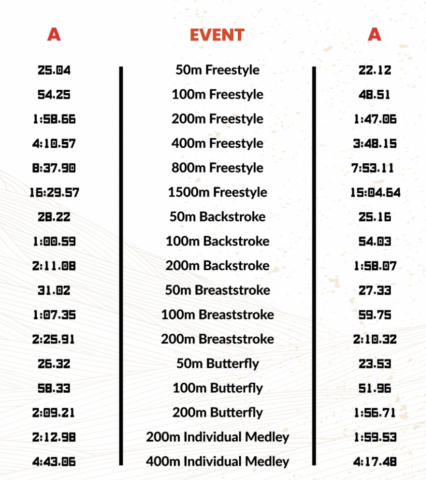 As in the past, Swimming Australia's qualification policy includes a caveat that additional selections may indeed be made by the National Head Coach, Rohan Taylor, at his absolute discretion.
Australia's 2022 World Championships squad included 35 swimmers in all, but last year also had the Commonwealth Games on the calendar with a few swimmers choosing to compete at one or the other.
In Budapest, the green and gold brought home 17 medals in all to finish in the runner-up spot behind the United States. Australia's haul included 6 golds, 9 silvers and 2 bronze.